Please sign in so that we can notify you about a reply
Replacement batteries for

Ozroll Ods Control 10 & Ozroll Smart Control 10 used on Ozroll Roller Shutters, sold by companies such as Modern, Slimline, Gotta group and others. 

This is a HEAVY DUTY battery with 25% more capacity than the OEM Ozroll battery, it

 is compatible with all Ozroll ODS Controllers,

Smart Drive & Smart Control 10 including RF models.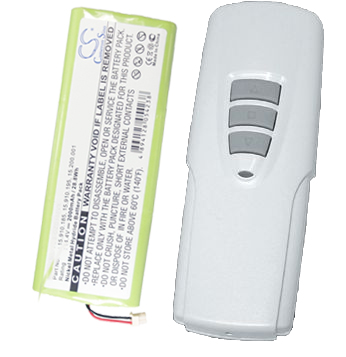 The replacement (Green) battery assembly on the left fits inside the control unit, it is supplied with a torx key (to remove the screw on the rear of the controller) and instructions. Very easy to fit!
This battery fits all Ozroll "Control 10" products including Smart Control 10 & ODS Control 10 including RF
Simply if your Controller looks like the one pictured then the battery will fit regardless of the part numbers on the back, a change in part numbers reflects a change to the electronics contained within.
PLEASE NOTE: The Controller on the RH side in the images is for display only they went out of manufacture 10 years ago and are no longer available.
We FREE Post this item from within Australia via Australia Parcel Post. 
Included is a Torx key to remove the screw in the back of the controller case and fitting instructions.

We import these batteries from Hong Kong in bulk, they are available from other suppliers on the Internet who have the product shipped direct from the Hong Kong manufacturer to their customers, but without instructions and the Torx key. 
PRODUCT INFORMATION
Type: Ni-MH

Voltage: 14.4 V

Heavy Duty: 2000 mAh 25% more capacity, compared to the OEM battery rated at 1500 mAh meaning in theory it will be able to lift your shutter 25% more than the original before needing recharging. 

T

hermal overload protection chip.

Manufacturer: Cameron Sino. Manufacturing batteries since 2004

Certification: ISO 9001, RoHS, CE

Brand New: with Twelve Month Warranty

Color: Green
Customers are STRONGLY encouraged to UPGRADE TO THE LATEST CHARGER and stop using the old-style charger.
Capacitors used in the old-style chargers are now starting to age and fail. This means that the charger may be putting out higher DC voltages, as well as some AC voltage, which may impact on the controller and battery.
We are an authorized Ozroll distributor for OEM replacement batteries Click here
All prices include GST packaging and postage, to anywhere in Australia, allow 2-10 business days for delivery. If your order is received by 3:30 PM AEST it will normally be posted that day. Item # RSODSRBCS