AVAILABLE FABRICS and COLOURS for Black Duck® SeatCovers
UNFORTUNATELY DUE TO FABRIC SUPPLY ISSUES, 4ELEMENTS GREY IS CURRENTLY UNAVAILABLE.
4ELEMENTS BLACK IS NOW AVAILABLE FOR ALL BLACK DUCK SEAT COVERS
Black Duck Canvas.
BLACK DUCK is the Australian pioneer of heavy-duty canvas seat covers with over 30 years of experience as leaders and innovators. Over that period they have established a reputation for a premium quality-heavy duty canvas seat cover with a superior fit, that offers the best protection possible to your vehicle seats. 
Black Duck 4ELEMENTS.
In 2019 Black Duck introduced an exciting new fabric called 4ELEMENTS.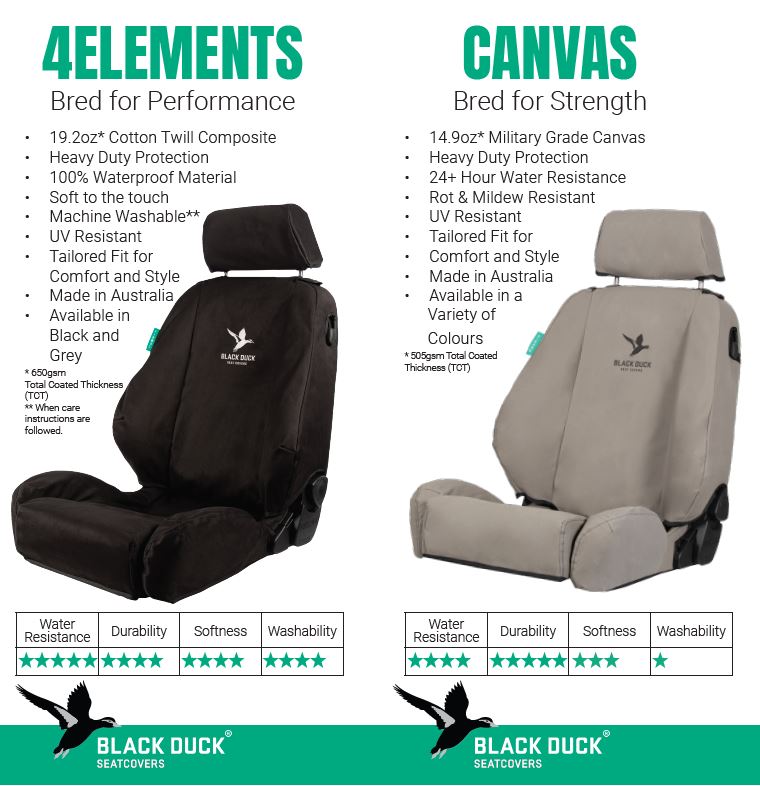 Please be aware that actual colours may vary from those shown on your screen.
4ELEMENTS FABRIC is available in 2 x colours.

CLICK TO VIEW A LARGER IMAGE

BLACK 4ELEMENTS 

CURRENTLY AVAILABLE 

GREY 4ELEMENTS

CURRENTLY UNAVAILABLE 




 

 

STANDARD CANVAS FABRIC is available in 3 x colours 

  BLACK CANVAS
GREY CANVAS



BROWN CANVAS

CUSTOM CANVAS FABRIC is available in 5 colours.

KHAKI CANVAS 
LIGHT SAND CANVAS 
MAROON CANVAS 
NAVY BLUE CANVAS 
CAMO (Auscam) CANVAS