SEAT-FITTED SIDE-IMPACT AIRBAGS SHOULD NOT BE CONFUSED WITH SIDE CURTAIN AIRBAGS.
Seat-fitted side airbags are designed to deploy from the side (closest to the door) of the seat backrest to give protection to the seat occupant from impacting with the door and or pillar, they are housed and deploy via several methods as listed below.
Through the stitching in a specially constructed seam (see the images below)

Through a Velcro flap located on the side of the backrest. 

Through a large plastic cover which is the cover of the housing for the Airbag. (see image further below)

Various other methods are used please always contact your car dealer to confirm whether or not your vehicle is equipped with seat-fitted side airbags.
Vehicle manufacturers are required by law to display if the seats have seat-fitted airbags. Various methods are used -  look for tags or stamps etc on the seats they will use  "AIRBAG" or "SEAT AIRBAG" or "SRS AIRBAG"
Black Duck is one of the few seat cover manufacturers in Australia that have their seat covers tested and Certified that the seat cover does not affect the deployment of the Seat-Fitted Airbag and that the vehicle still maintains compliance to Australian Design Rule 72/00    Very important for insurance and roadworthy compliance purposes. 
Ever wondered what it looks like to see a Seat-Airbag explode?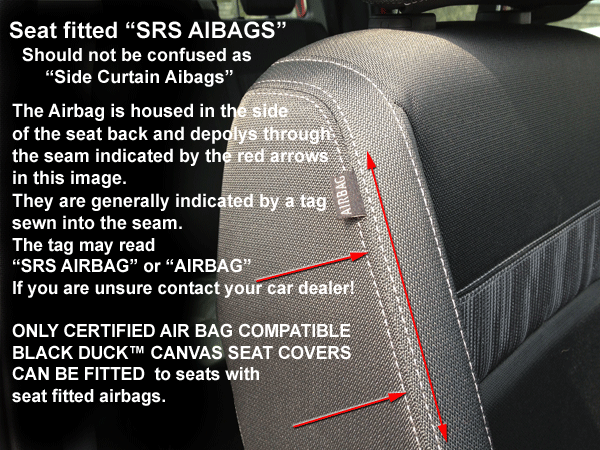 Image Showing Seat-Fitted Airbag Plastic Cover Used on Some Seats.
NOTE: The stamp 
at the bottom of 
the plastic cover
S R S
AIRBAG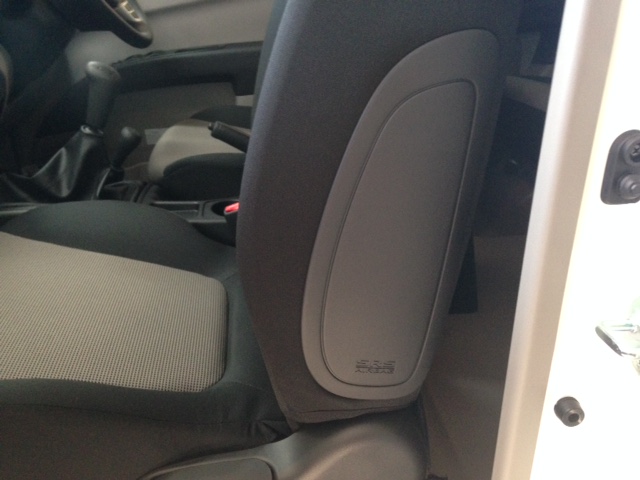 This image shows how the seat-fitted airbags are indicated on current model Toyota Hilux dated from 07/2015.
The stamp is just by the backrest tilt lever on the seat base.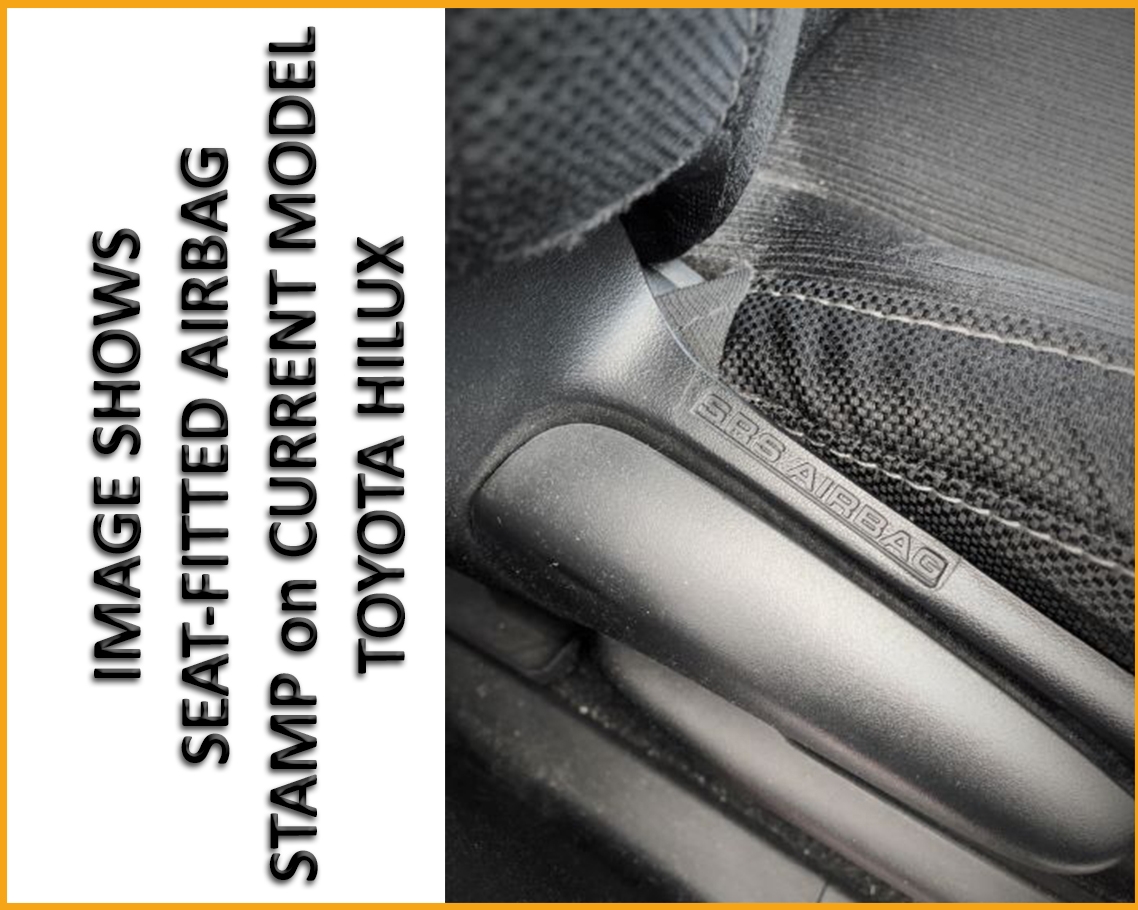 SAFETY WARNING
For customers purchasing Black Duck seat covers.
Only Certified Air Bag Compatible Black Duck™ Canvas Seat covers are to be fitted to vehicles with seat-fitted Side Air Bags.
Air Bag Compatible Seat covers must be returned to the manufacturer for repairs if required.
These seat covers are not to be fitted to vehicles other than those specified by the seat cover manufacturer.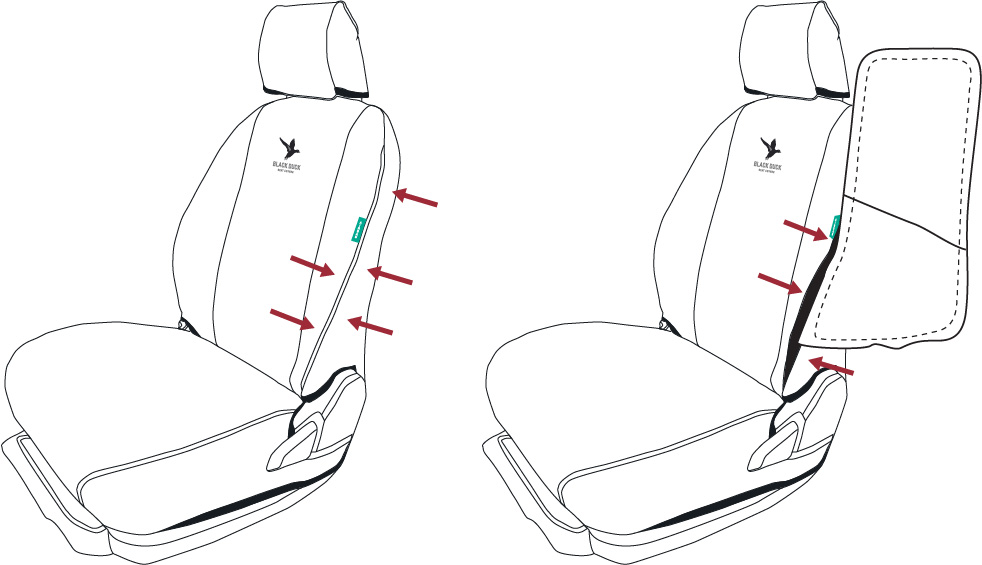 DISCLAIMER:
Black Duck™ Canvas Products Air Bag Compatible Canvas Seat Covers have been dynamically tested by an approved testing authority and found not to adversely affect the performance of the manufacturers seat fitted side airbag and therefore the safety of the vehicle's occupants will not be compromised, providing that the seat covers are fitted correctly and in accordance with the manufacturers instructions, and that the seat covers have not been repaired or modified in any way.
As the Manufacturers and sellers of this product have no control over the end use or the fitment to the vehicle, to the extent allowable by law, the Manufacturers and sellers accept no responsibility or liability for any malfunction of the vehicle occupant safety systems including the seat-mounted side-impact airbag system as a direct or indirect result of the incorrect fitment or unauthorized repair or modification to this product.
The information contained on this page is general in nature and meant as a guide only you should always seek information from a qualified car dealer or mechanic as to what airbags are fitted to your vehicle.

For Customers purchasing SPERLING BRAND seat covers.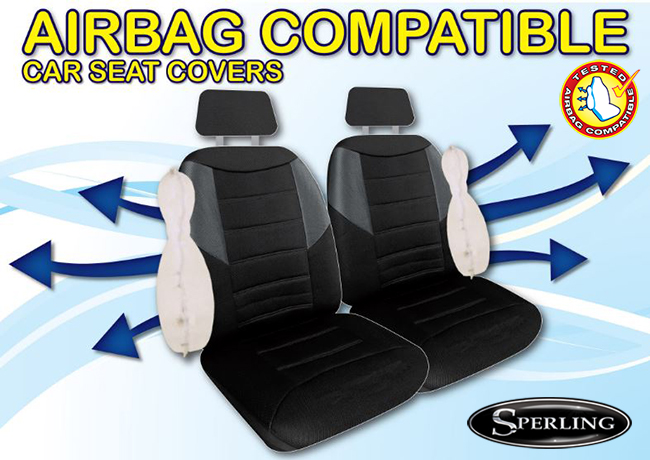 The seat-airbag compatible seat covers are designed to allow the side seams to split upon deployment of an airbag.
They are constructed using a computer-controlled stitching process and specialised thread, which has been tested by
APV-T Testing and Engineering services 1521 Hume Highway, Campbellfield, Victoria 3061
and found to not obstruct the deployment and position of the airbag.
For full details of a sample test report please click on the link below
 AIRBAG COMPATIBILITY TEST REPORT 
SPERLING ENTERPRISES AIRBAG DISCLAIMER
If your SPERLING SEAT COVERS are SEAT-AIRBAG COMPATIBLE they will have a label sewn into a seam on the backrest at around shoulder height.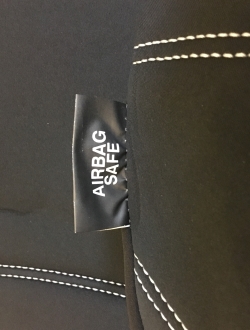 This product is suitable for cars with standard side seat- airbags. Before fitting please read below.
1. Correct initial fitting and securing of this seat cover on your vehicle is essential to allow the deployment of seat
airbag. Incorrect fitting can prevent the seat airbag from inflating correctly in the event of a collision.
2. The driver and passenger seat cover must be fitted to the correct side. There is an identifying tag on each
seat cover. You must fit 'drivers' on the driver's side and passenger' on the passenger side.
3. Seat covers that have slipped must be repositioned. If this is no longer possible because of advanced wear
the seat cover must be replaced.
4. Do not tamper with the opening side seam of the seat cover.
5. These seat covers are designed to allow the side seams to split open upon deployment of an airbag because
they are constructed using a computer-controlled stitching process and specialised thread.
6. If the side seam splits for any reason it cannot be repaired. Any attempt to resew the seam may interfere with
the standard integrated side airbag deployment.
7. Discard the seat covers after side airbag activation. 
IF YOU HAVE A VEHICLE WITH SEAT-FITTED AIRBAGS THEN YOU MUST INSTALL SEAT COVERS THAT ARE SEAT-AIRBAG COMPATIBLE SERIOUS INJURY MAY RESULT IF YOU FIT COVERS THAT ARE NOT SEAT-AIRBAG COMPATIBLE.