Please sign in so that we can notify you about a reply
 BLACK DUCK CANVAS PRODUCTS manufacture Australia's most POPULAR heavy-duty CANVAS or 4ELEMENTS SEAT COVERS to suit your GWM CANNON UTE from 2021 onwards.
Seat Type:  REAR BENCH SEAT.
Suitable For: GWM CANNON UTES.
Models: CANNON / CANNON L / CANNON X - select your model in the options it's really easy.
Date: From 2021 on including 2022, 2023, 2024, 2025 and beyond
REAR BENCH SEAT  there are 2 x selectable options that are updated when you select your model.
Default is CANNON-X - Dual Cab Rear Bench, 60/40 split with fold-down armrest and 3x headrests, allows access to ISOFIX anchor points.
Pictured below is the CANNON and CANNON-L - Dual Cab Rear Bench, full width seat base and backrest with NO fold-down armrest and 3x headrests (with covers), allows access to ISOFIX anchor points.
Premium Quality Heavy Duty Seat Covers that Fit Like a Glove!
Why Choose BLACK DUCK Seat Covers to fit in your GWM CANNON UTE
Superior fit and Quality.

Black Duck has over 35 years of experience as leaders, manufacturing premium quality heavy duty canvas seat covers. (Did you know Black Duck started in a small country town in WA manufacturing seat covers for the Farming and Mining industries).

What sets Black Duck apart from many others seat cover brands is that cheaper covers can end up looking like a bag of spuds.

  

Each Seat Cover is custom-tailored by Black Duck's pattern team to deliver a custom look and feel and b

uilt tough to withstand the most unforgiving conditions.

Ensure the lifespan of your original seat upholstery is prolonged for as long as possible.

Help increase the resale value of your vehicle.

Made in Australia from Fabric MILLED in AUSTRALIA with manufacturing plants in Perth.

Shipped direct to our customers from the Black Duck Factory.
 Why Buy Black Duck Seat Covers from Miller Canvas
We are a SPECIALIST Black Duck Reseller (retailer).

A 20-year association with Black Duck, with any problems resolved efficiently.

Selling online for more than 9 years.

We know seat covers, previous experience designing and manufacturing our own brand.

The largest range of Black Duck covers online, with many you won't find on other stores.

Full fabric and colour range selection as an option.

Customisation of your seat covers, add a reinforcing patch, mix and match fabrics.

Very competitive pricing.

We guarantee to supply you with the correct seat cover(s) when you accurately fill out our online confirmation form after your purchase.

Small country town-based business striving to achieve exceptional personal service.

Shipping direct from the Black Duck Factory via Premium Express service.
There are 2 x Fabrics to choose from.
1) Black Duck Canvas. Maximum Protection!
Unique and exclusive, a modified blend of cotton/polyester canvas 12 oz (14oz proofed weight) developed over the last 25 years for the harsh Australian conditions.
Hard-wearing, very water-resistant, tear-resistant and heavy-duty protection.

Tailored fit ensures superior seat protection, comfort, and aesthetics.

Available in 13 different colours with Grey, Black & Brown as standard colours along with Camouflage, Khaki, Light Sand, Maroon & Navy Blue as Custom Colours.

Limited washability.

(refer to care label)

Safety assured - tested and certified airbag compatible range available.

Customisation is possible with the addition of a reinforcing patch on driver and passenger seat base.
3) Black Duck's new fabric 4ELEMENTS.  (READ MORE) 

ULTIMATE Protection!  
19.2 oz Cotton Twill Composite (The Denim fabric with a rubberized/vinyl backing).

Ultimate Heavy Duty Protection.

100% Waterproof Fabric.

Soft and Flexible.

UV Resistant.

Black Duck's Superior fit & quality.

Available in Black or Grey.

Machine Washable (but without detergent - 

refer to care label).

Safety assured - tested and certified airbag compatible range available.
WHAT'S BEST FOR YOU
BLACK DUCK CANVAS or 4ELEMENTS fabrics provide Maximum Protection for your seats. Apart from eliminating the damage caused by liquid spills, they are fully dustproof and completely eliminate wear caused by sand, grit and even fine dust that gets into everything, penetrates through cloth type seat covers and eats away at your seat trim and stitching in the seats in your GWM CANNON UTE. 
Make sure you fit Black Duck Canvas Seat Covers perhaps even try the new 4ELEMENTS fabric for ULTIMATE seat protection to your GWN CANNON UTE, they are the Duck's Nuts in Seat Covers.
BELOW ARE SOME SAMPLE IMAGES THEY MAY NOT DEPICT THE SEAT COVERS  YOU ARE CONSIDERING
With over 1400 patterns its impossible to have an image of every Black Duck Seat Cover.
Standard Grey Seat-Airbag Certified Black Duck seat covers in Grey Canvas.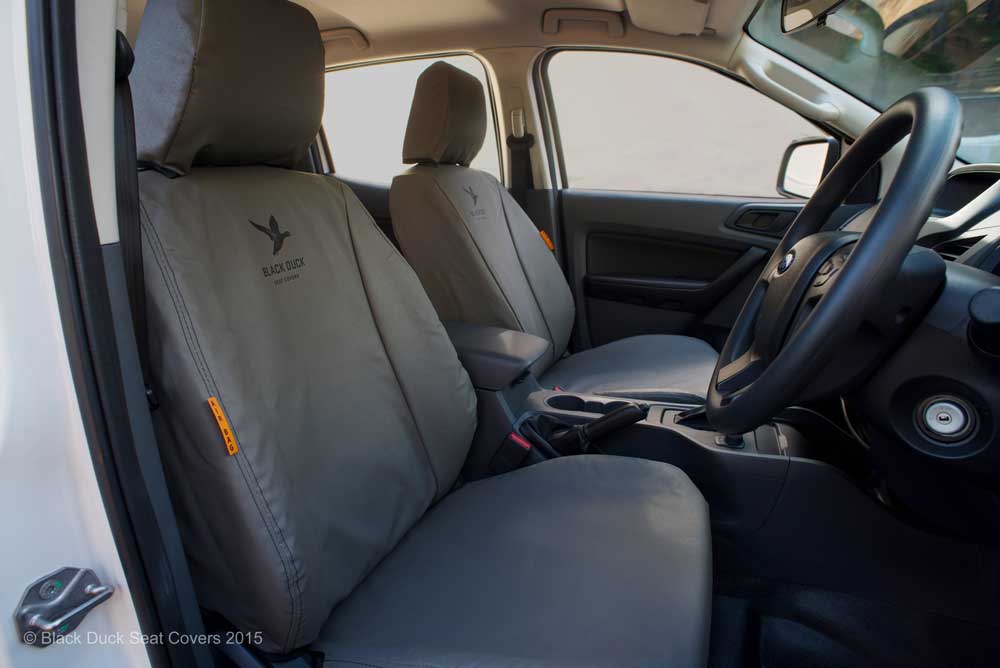 Black Canvas.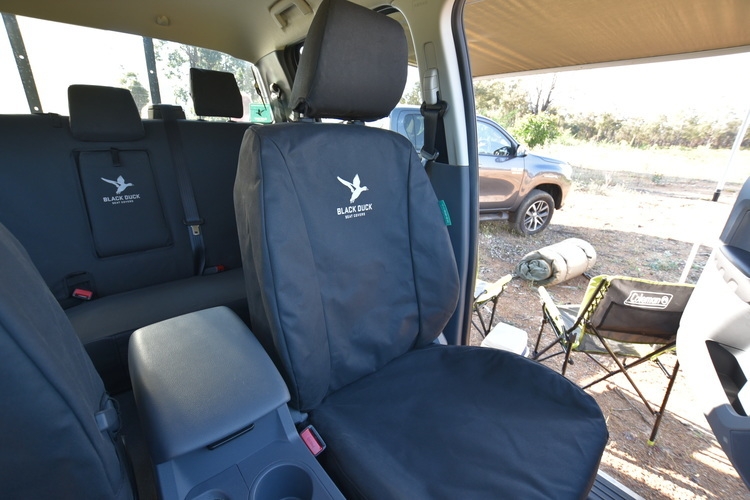 Optional reinforcing patches sewn onto seat base covers, drivers side only or driver and passenger side (passenger shown).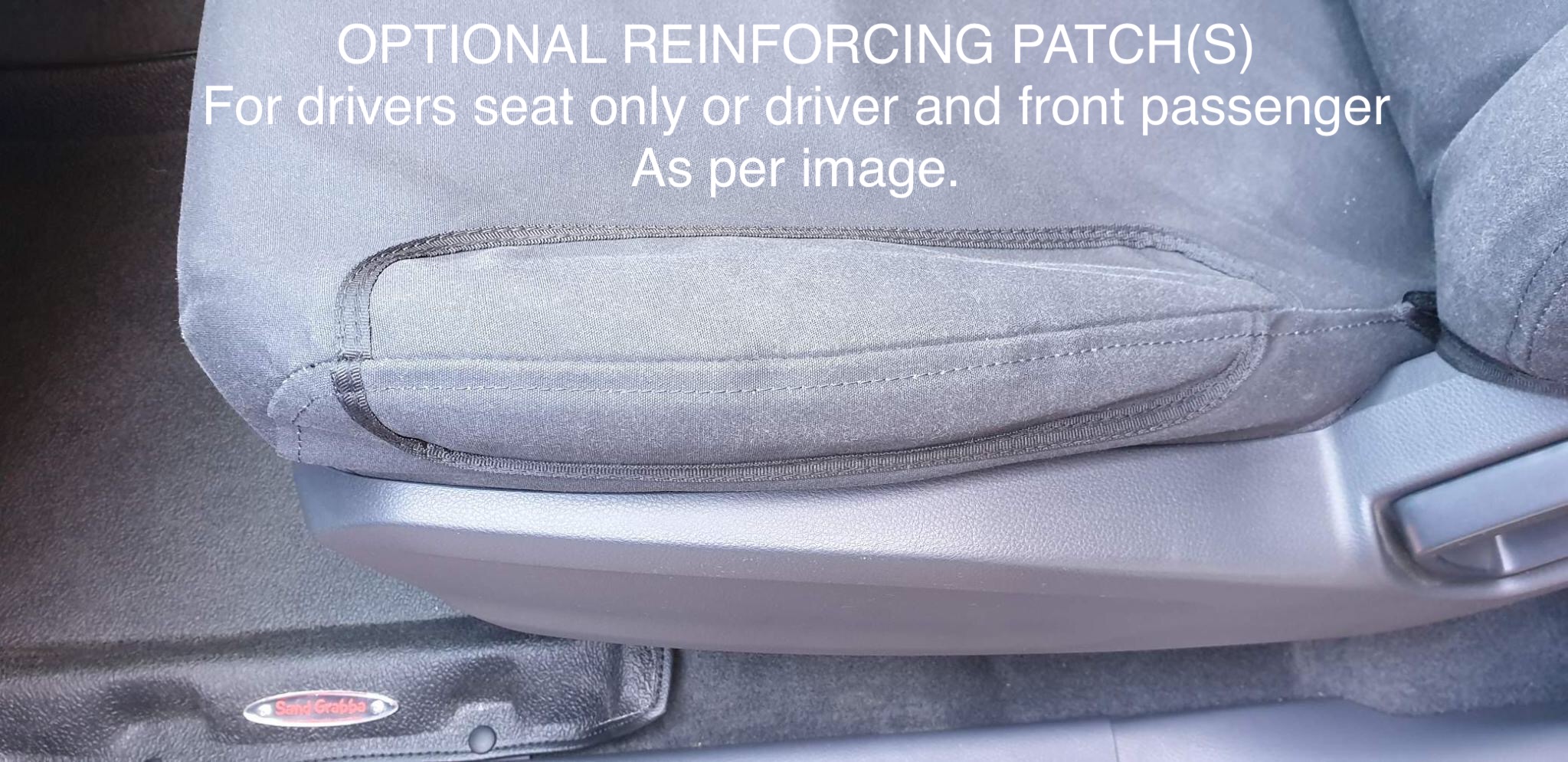 Rear Bench seat cover in Grey Canvas.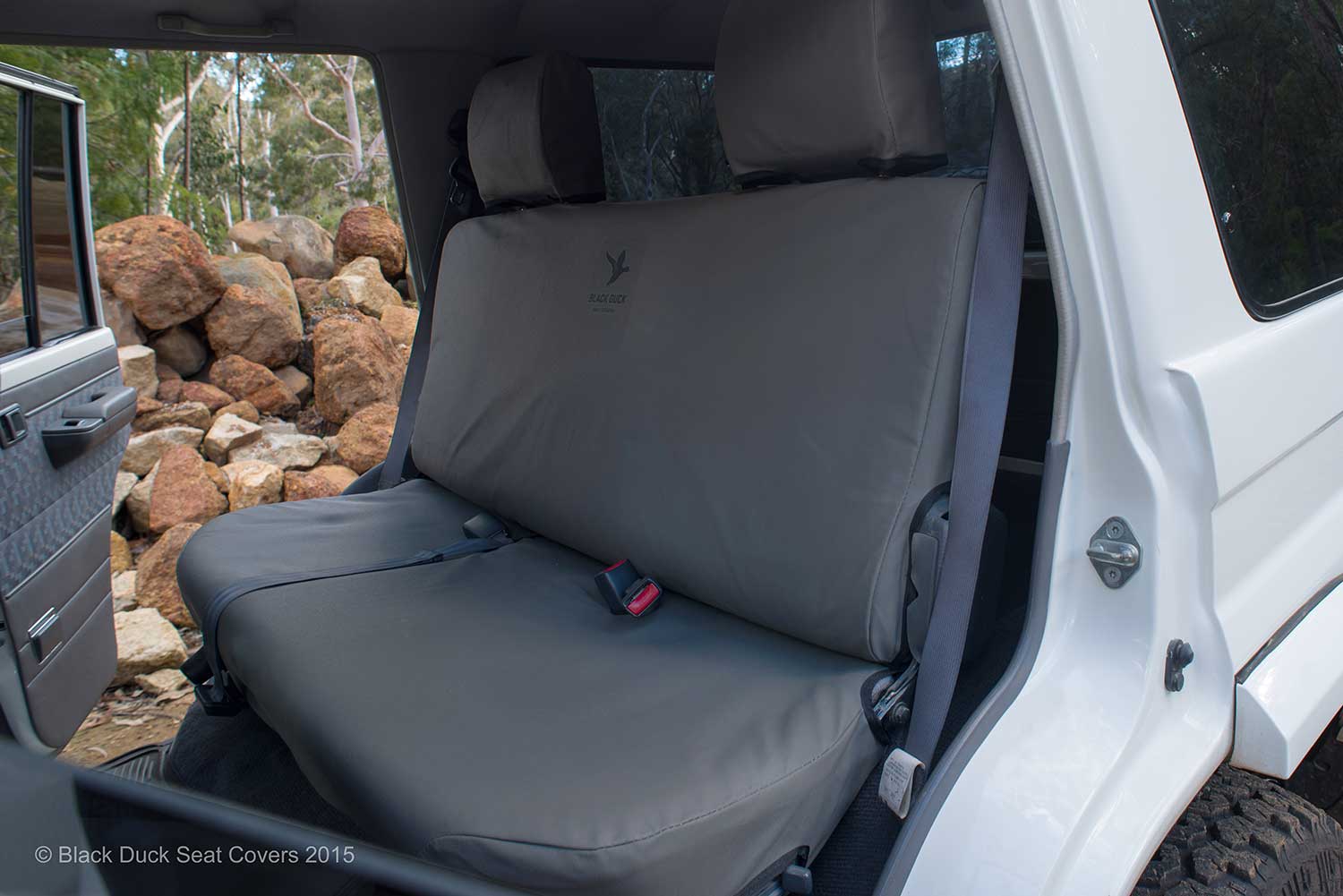 4ELEMENTS-BLACK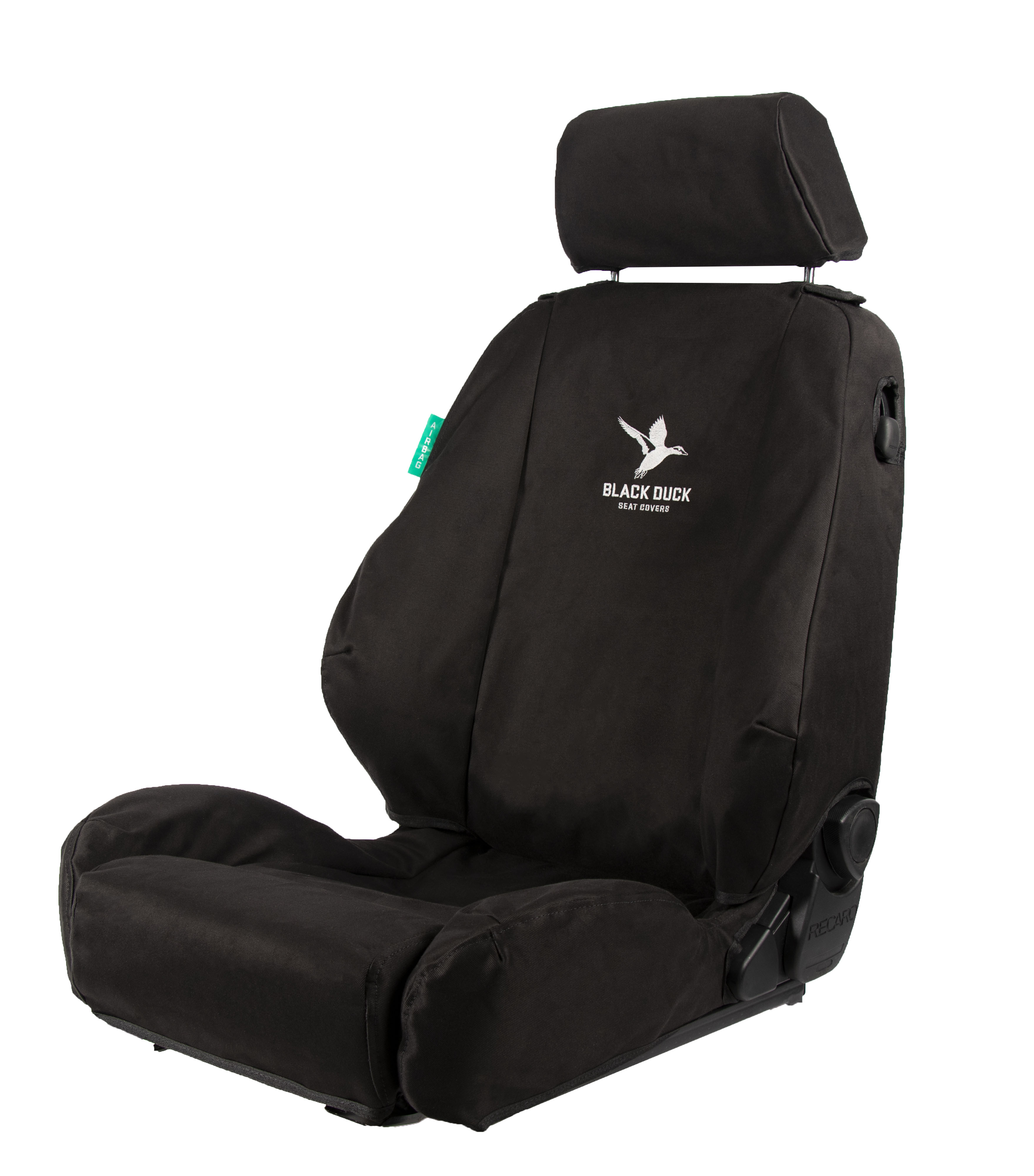 Grey Canvas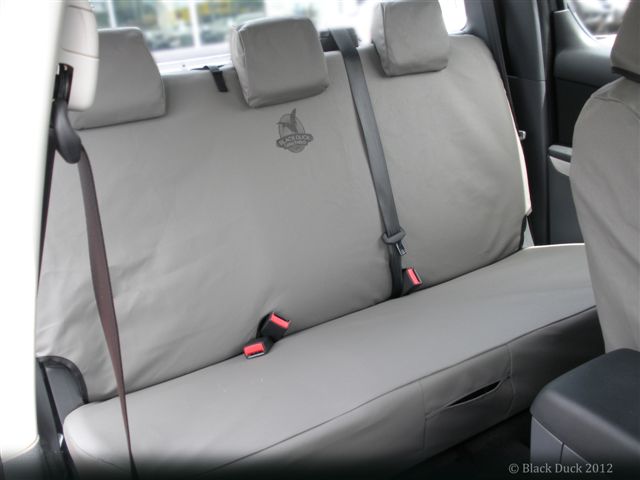 Driver Bucket and Passenger 3/4 bench Grey Canvas.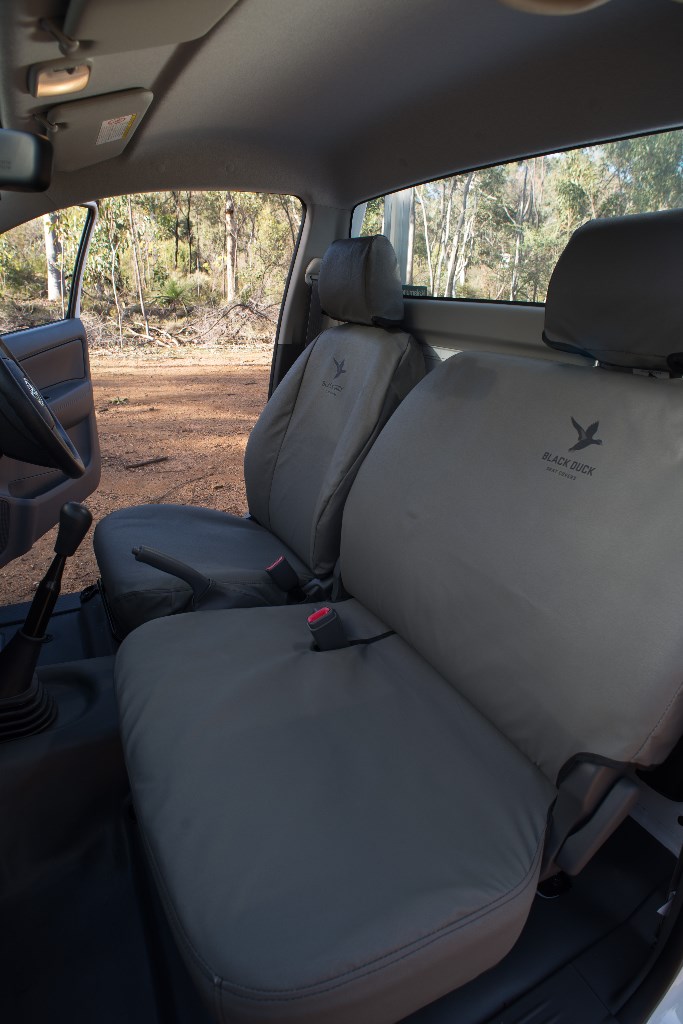 Image shows map pocket sewn onto the rear of most front drivers and passenger bucket seats in Grey Canvas.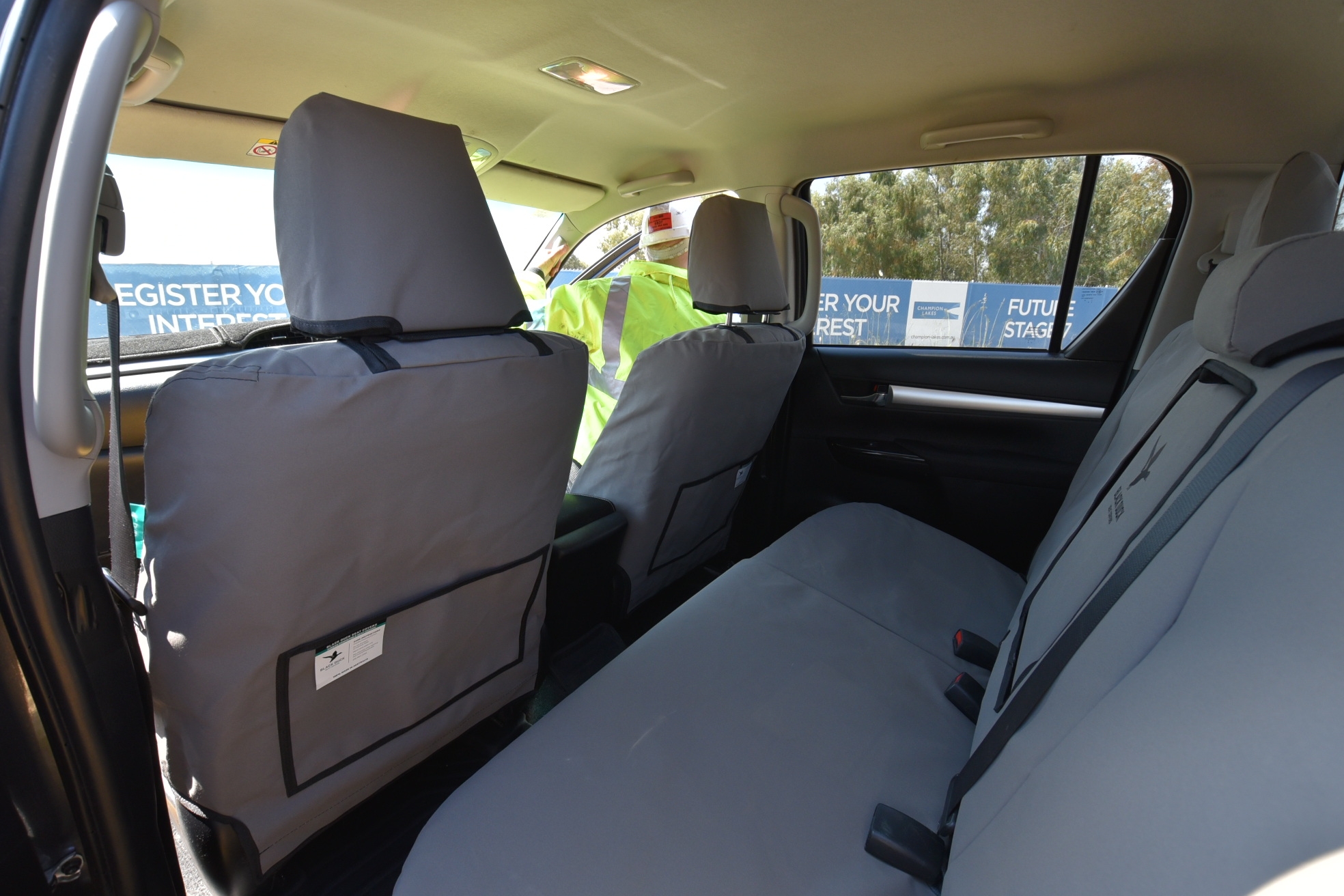 Image shows rear bench seat with 60/40 split base and fold down armrest in Grey Canvas.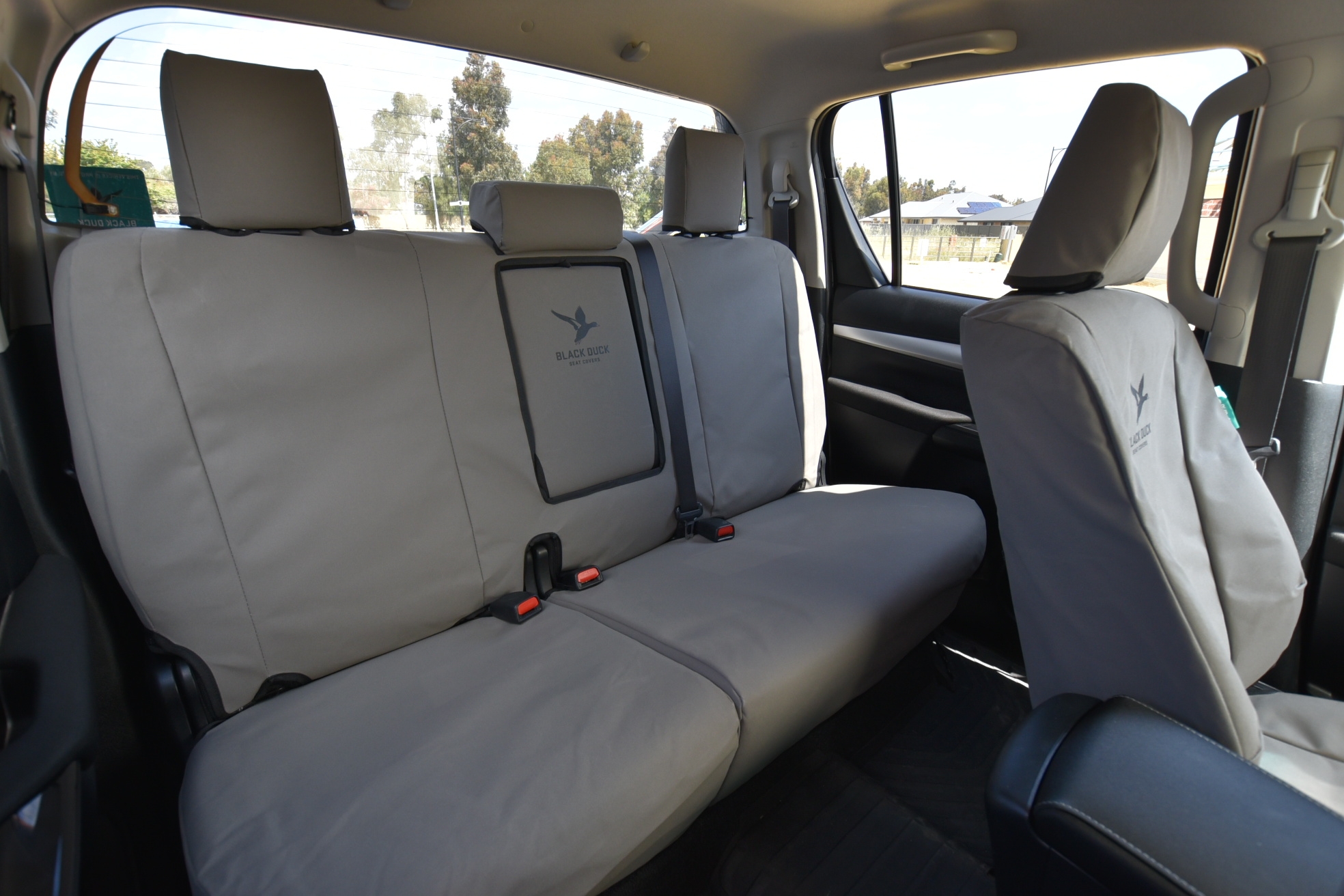 All functions of seat accessories are catered for including cup holders Grey Canvas shown.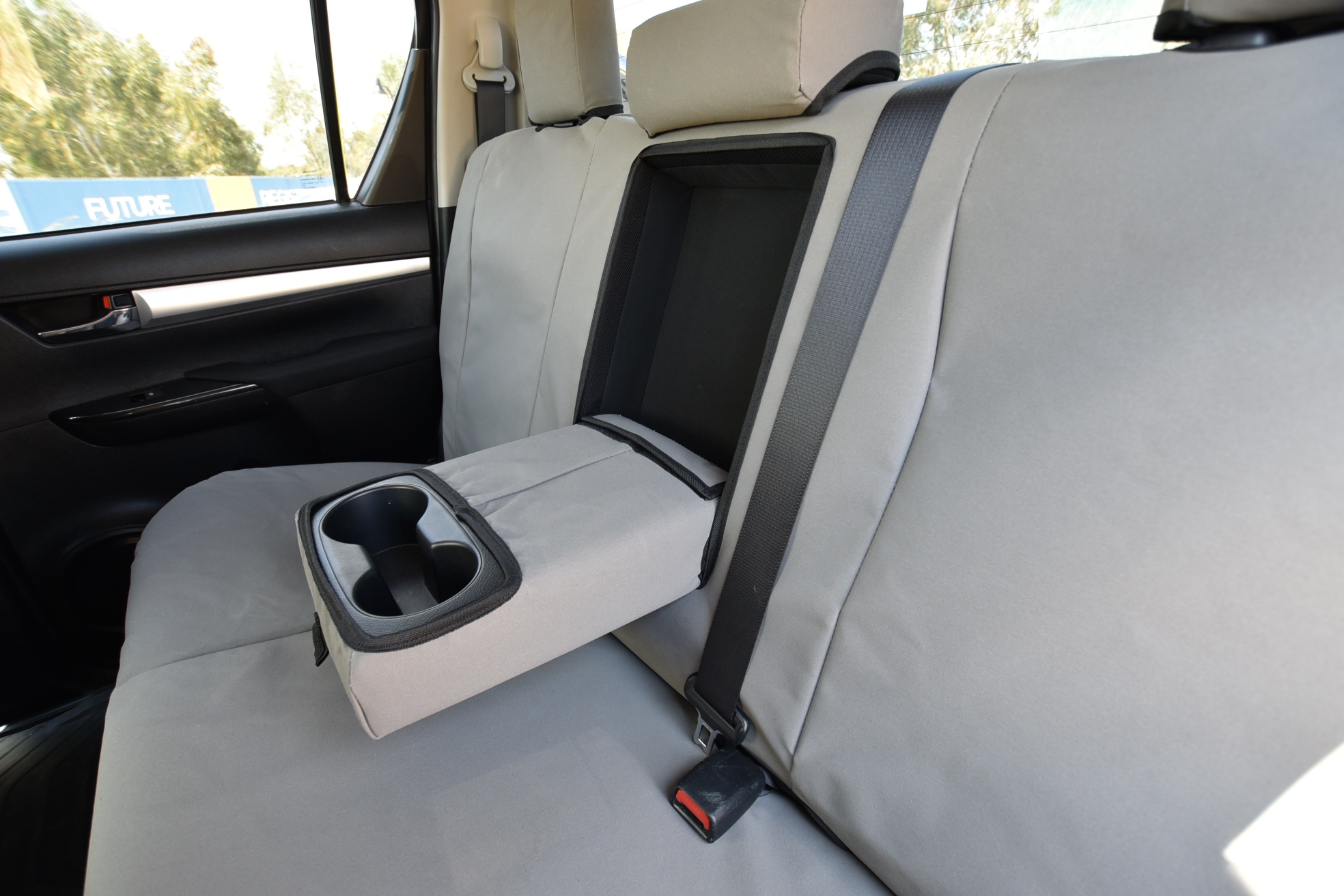 Ford Transit Van.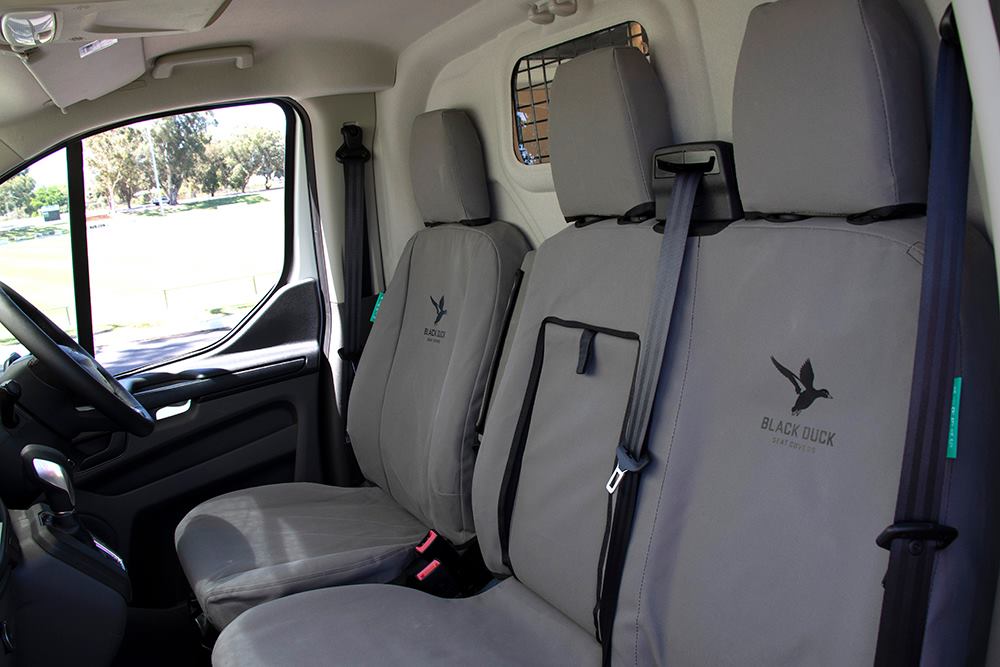 GREY CANVAS NISSAN NAVARA NP300 2021 Model.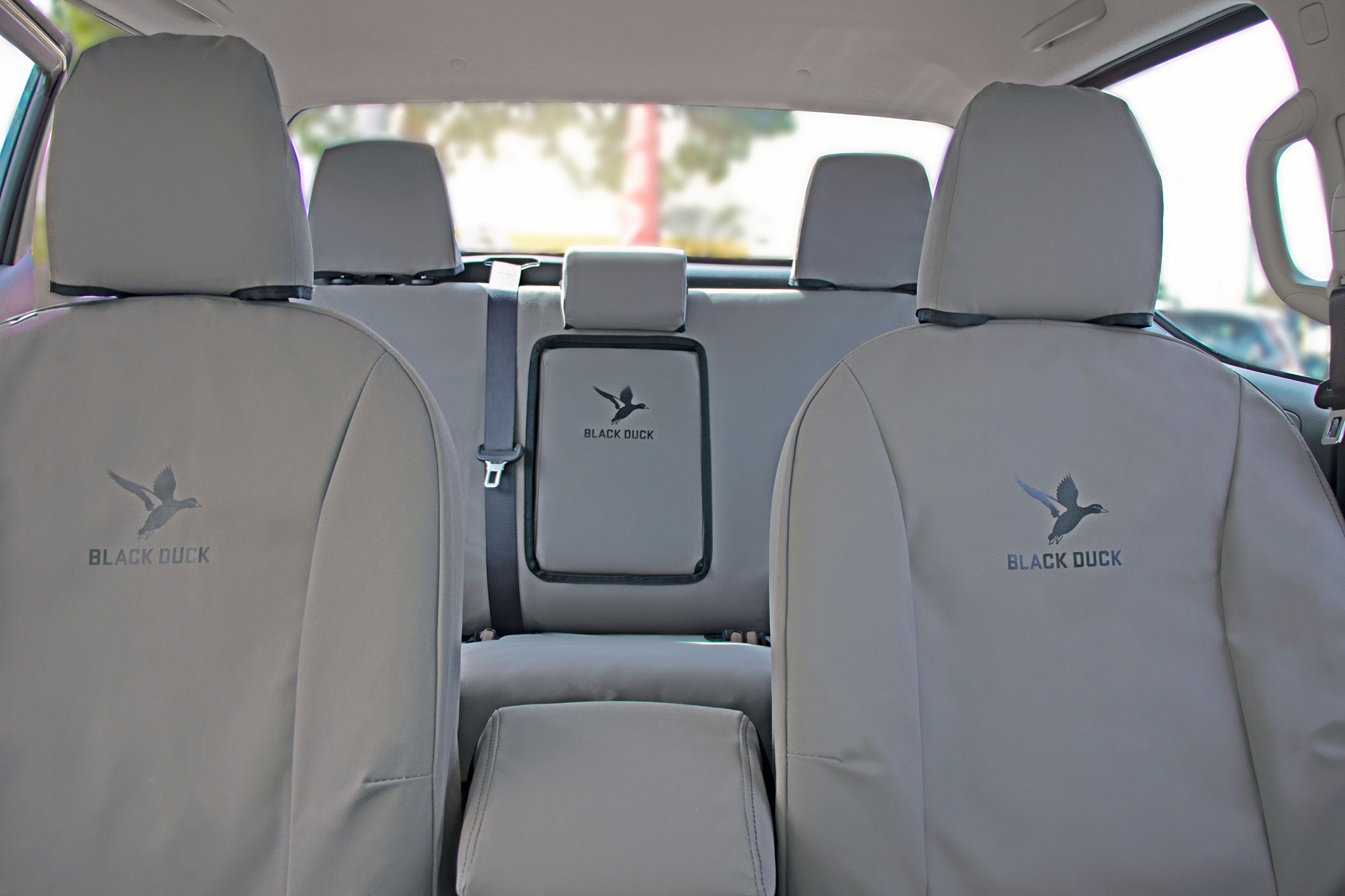 GREY CANVAS SEAT COVER FITTED TO A VW CRAFTER VAN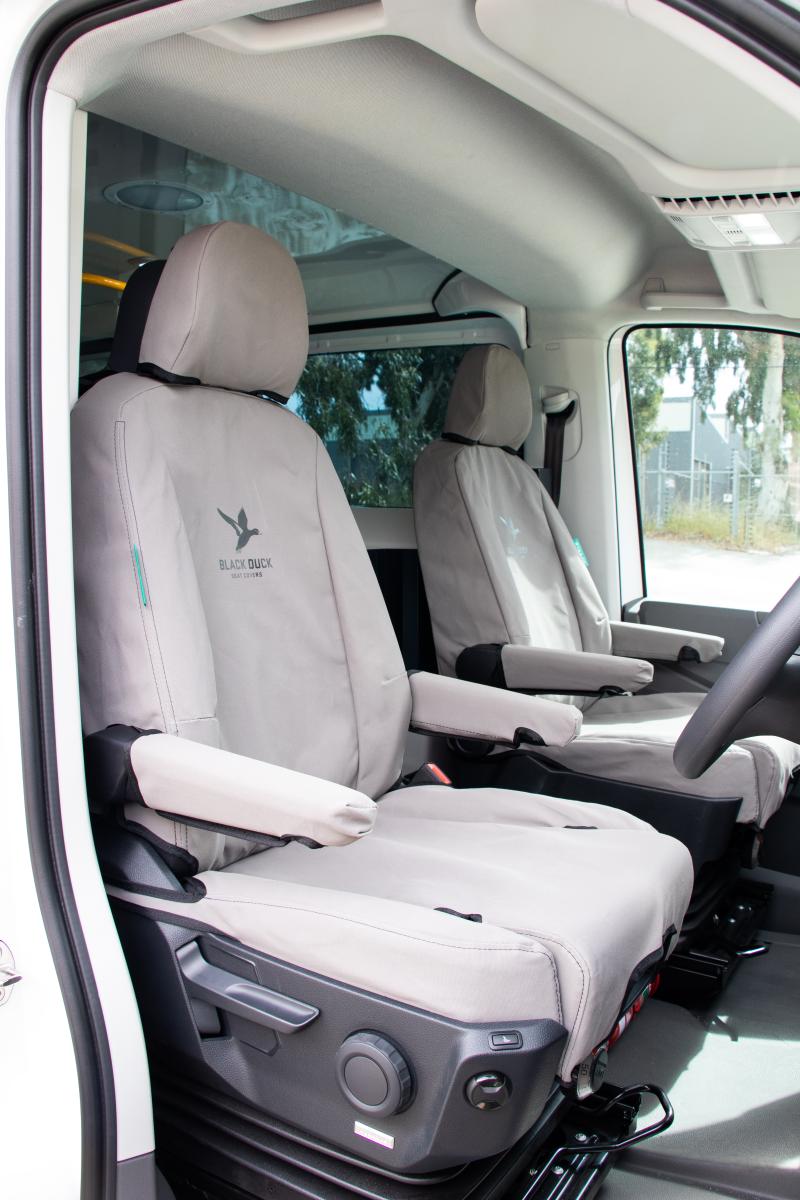 INTRODUCING BLACK DUCK'S REVOLUTIONARY NEW HEAVY DUTY WASHABLE (but without detergent) SEAT COVER FABRIC
NOW AVAILABLE on ALL OUR BLACK DUCK COVERS, SIMPLY SELECT "4ELEMENTS ELBK"  as an OPTION in our FABRIC & COLOUR OPTIONS SELECTOR.
Available in BLACK or GREY.
Bred for Strength and Comfort
Developed exclusively for Australian conditions by Black Duck Seat Covers, the Pioneers of Seat Protection, 4ELEMENTS is a fabric that will revolutionize the seat cover industry.
4Elements by Black Duck Seat Covers are tested to withstand tough conditions without compromising on comfort. Featuring a 19.2oz Cotton Twill Composite, this is a heavyweight product with a soft and flexible feel for the ultimate in seat protection. Made from a 100% waterproof fabric that is also machine washable (but without detergent) to keep your vehicle interiors in pristine condition – you won't be disappointed!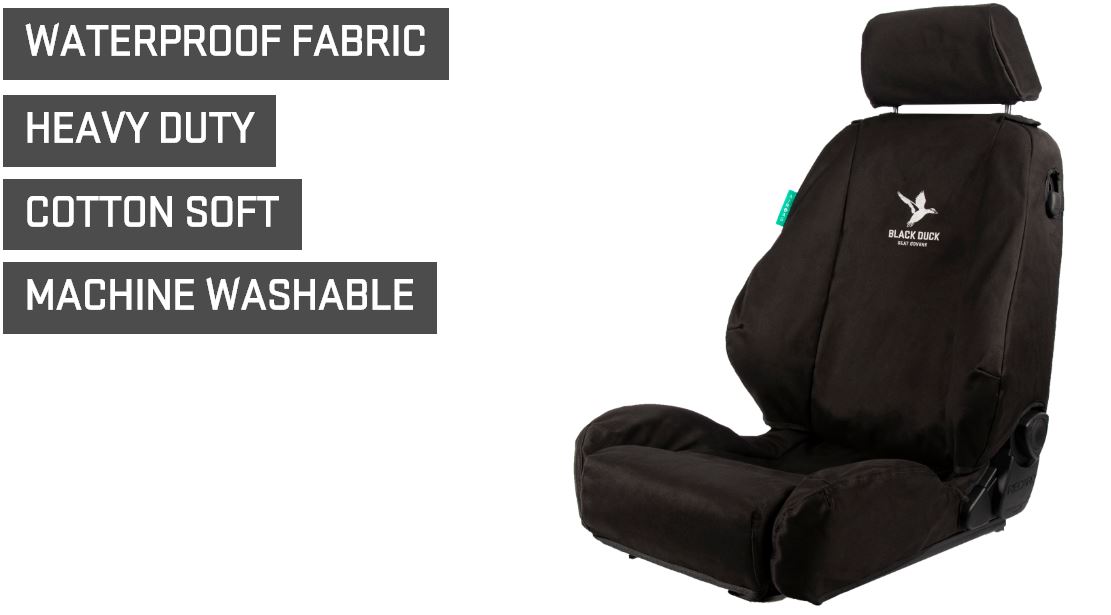 Black Duck's most advanced seat cover yet!
19.2 oz Cotton Twill Composite
Heavy Duty Protection
100% Waterproof Fabric
Soft and Flexible
Machine Washable (no detergent)
UV Resistant
Tailored fit for comfort and style
Available in Black or Grey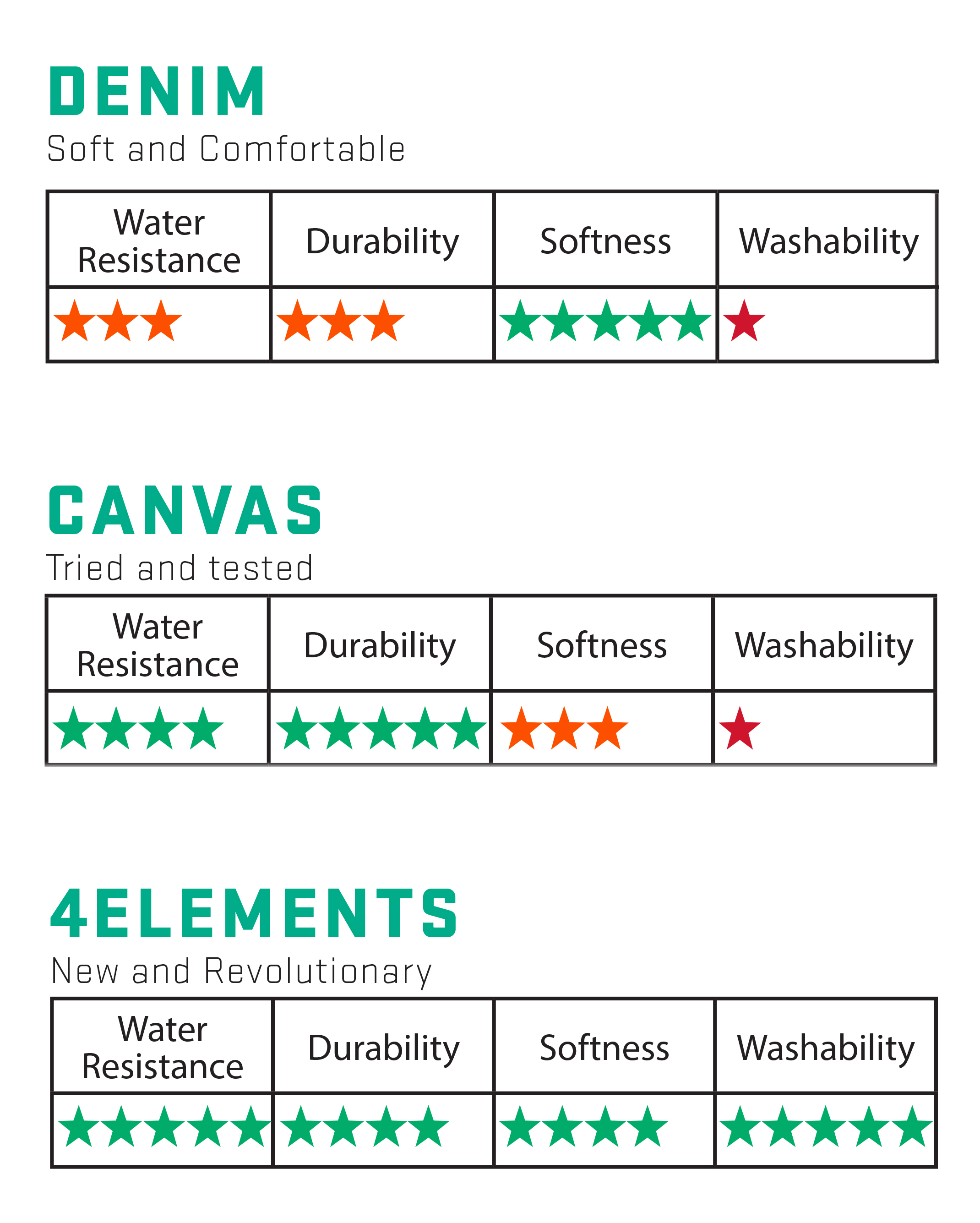 You may already know that Black Duck manufacture the BEST premium quality Canvas or Denim Seat Covers for use in Australias harsh unforgiving conditions, now with the introduction of the all-new 4ELEMENTS seat cover fabric, Black Duck has set the bar even higher.
SIMPLY SELECT "4ELEMENTS"  in Black or Grey in our Fabric & Colour Selector.
**PLEASE NOTE**
AS OF 15/05/2021 DENIM IS NO LONGER AVAILABLE DUE TO SUPPLY ISSUES.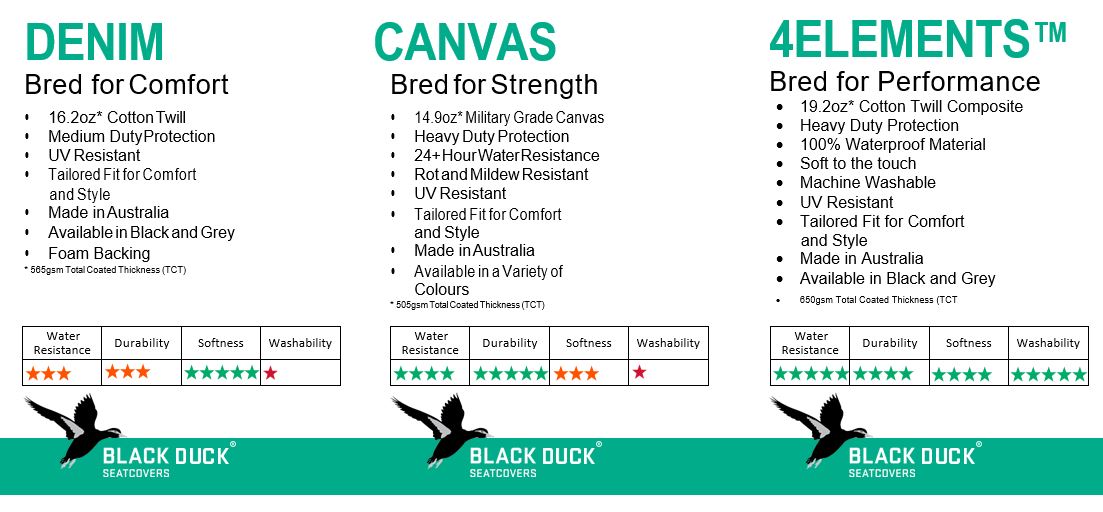 Click on the image below to
DOWNLOAD
a large interactive image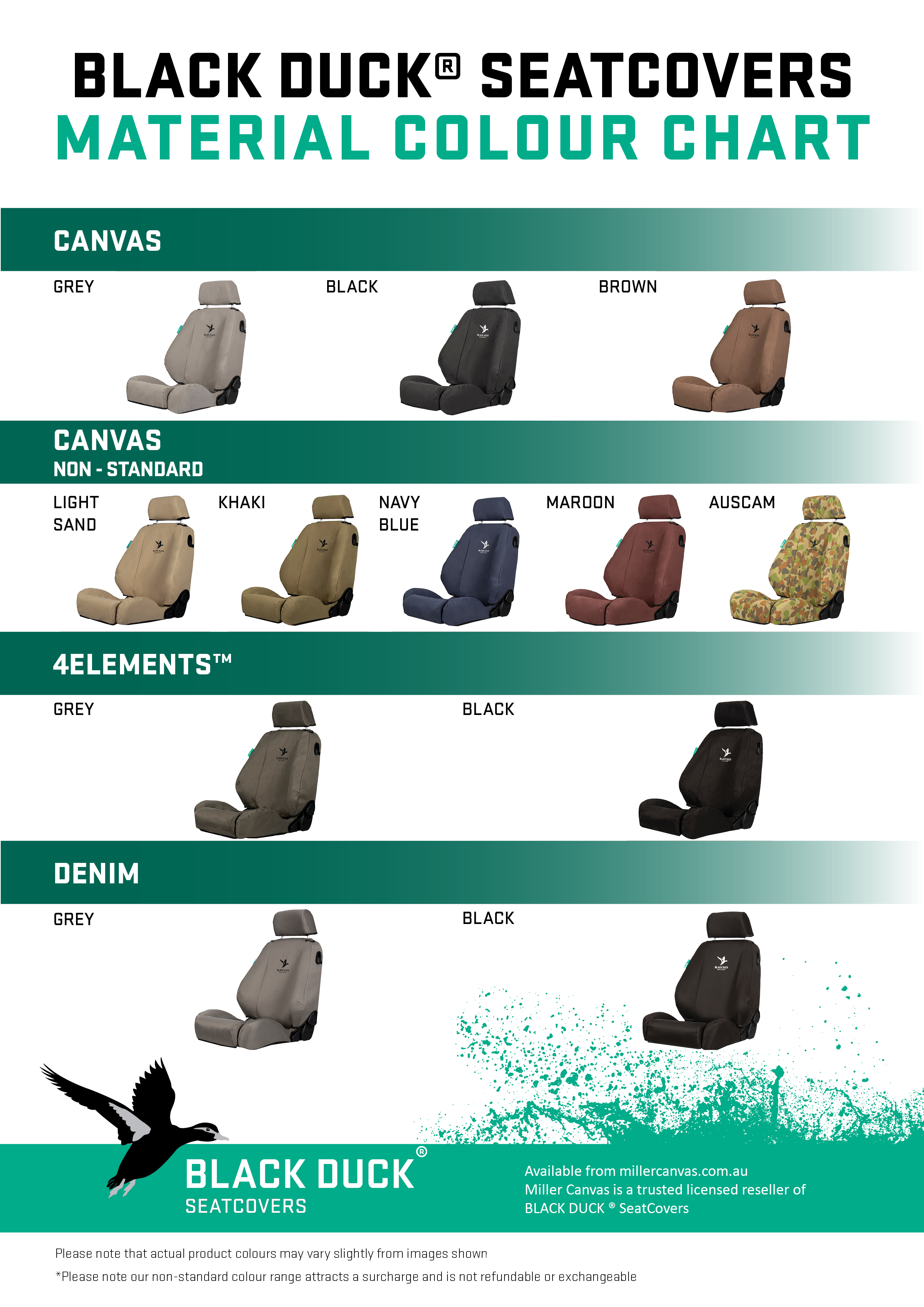 Shipping, Warranties & Returns for Black Duck Products
SOME FACTS
Not all covers are in stock, Black Duck have more than 1400 patterns and 15 available fabric and colour combinations. Our experience in selling Black Duck covers online for more than four years shows that approximately 40% of orders need to be manufactured. Current manufacturing time is an awsome average of 8 days.
All orders are shipped direct to you from Black Duck via Star Track Overnight Express (Example: a customer in Mt Isa ordered at 2:00pm and received their covers at 10:00am next day)
We have a flat rate shipping charge of $18.00 per order INCLUDING INSURANCE. Australia wide.

Compare our prices, some companies offer free shipping then charge you for EXPRESS shipping with an additional charge for INSURANCE.

Immediately after a transaction you are emailed our Tax Invoice this email is headed with a request for you to click on a link to fill out our Seat Cover Form. We Guarantee you will get the correct covers for your vehicle if you fill out the form with correct information about your vehicle and the seat configuration.  

YOUR ORDER WILL NOT BE ACTIONED UNTIL THIS FORM IS FILLED OUT CORRECTLY.
Delivery Charges
Shipping in general is calculated at checkout, OUR Black Duck Seat Covers have EXPRESS DELIVERY as a standard. A delivery fee of $18.00 per order (WE ARE CURRENTLY  OFFERING FREE DELIVERY) whether for a single seat cover or a complete set of covers for a Bus to ANY location within Australia. We do not ship to addresses outside Australia. Miller Canvas reserves the right to change prices for delivery at any time.
Addresses & Shipping methods
Delivery is generally via Star Track Express. In most cases the article will have to be signed for. Our experience shows that the best delivery outcome is for the customer to provide a delivery address of a business they may be associated with where someone is present to accept your delivery and sign as proof of delivery between the hours of 9:00am and 5:00pm.
If no one is home to accept delivery and sign as proof of delivery the courier will leave a card advising for collection at the nearest Post Office or Startrack depot or agent extra charges may apply.
.
Delivery Times
All orders on this website are processed within 24 hours Monday to Friday. If there are any unforeseeable delays, you will be contacted by our sales team within 2 business days.
Orders will be delivered in approximately 2 - 10 business days.
Our courier cannot guarantee a specific delivery date or time. If no one is present to accept the delivery, a slip will be left in the mail box so that you can negotiate with the courier a suitable arrangement for final delivery or collection, if a redelivery or change of delivery address is required then the customer is liable for any further charges.
If your Product has not arrived after the estimated delivery time, please contact us via email sales@millercanvas.com.au
Delivery
Please ensure you or someone appointed by you receives the article, inspect it and check the goods at the time of delivery.
The receipt of goods must be signed for by an adult. If there is any defect or damage, (this also includes visible damage to goods or property during the course of delivery), then you must address this with the courier and have it noted on the proof of delivery docket.
Title and risk of loss to all products will pass to you on delivery.
Products Damaged in Transit
Please contact us immediately via email: sales@millercanvas.com.au. Please state your name and the invoice number provided to you by Miller Canvas and clearly outline the problem.
We will not accept liability for visible damage not reported within 7 days of receipt of goods.
NOTE: In case of any problems with your delivery, Miller Canvas will be in direct contact with the Black Duck and the carrier to resolve the issue as quickly as possible with as little inconvenience to you. We will make every effort to contact you and keep you informed of the progress of our investigation.
Seat Cover Returns & Refunds.
Miller Canvas reseves the right to refuse a return for refund, each case is decided upon merrit.
Returns will only be accepted if prior approval and a return reference form is given, the purchaser must contact us via email to sales@millercanvas.com.au within 7 days of delivery, with a complete detailed description of the issue, please include your Tax Invoice number.
All returned items (aside from warranties) must be:
Unused and in their original condition.

The Full set of covers as purchased.

Part of our Standard color range eg. grey, black or brown canvas or black or grey denim. Non-standard colour items cannot be returned

Accompanied by a Return Authorisation Form provided by us on approval of your Return Request Submission.

The customer is responsible for all return costs.

The customer must issue Miller Canvas with a tracking reference.

A full refund will be issued less our original shipping costs of $40.00 (Miller Canvas reserves the right to change these costs at any time)
If the item is not returned in as new condition in its original packaging along with all documentation, you may also be charged a restocking fee (to be determined upon inspection).
 Seat covers for older model (non-current model) vehicles, and change of mind issues will only be accepted for return at the discretion of Miller Canvas. This can be very costly, so please contact us to ask any questions about Black Duck seat covers. Miller Canvas will not refund items that have been misused, mishandled or incorrectly installed.
Black Duck 100% Satisfaction Guarantee*
If you are not 100% satisfied with your Black Duck® Seat Covers, we offer you a full money
back* guarantee, because we have 100% confidence that our product will add value to your
investment!
*Terms & Conditions - 100% Satisfaction Guarantee for Black Duck® Seat Covers:
This warranty is given by Qualtarp Pty Ltd trading as Black Duck Seat Covers ("Black Duck").

This warranty is valid for 12 months after purchase ("term of warranty").

In order to claim this warranty, you must request a return form from our customer service staff, and the product must be sent to the address provided on the form together with proof of purchase within the term of warranty.

Black Duck will refund or replace the purchased product once it is received.

The purchaser must bear all costs associated with the delivery and return of the product to Black Duck. Black Duck may, in certain circumstances and entirely at its discretion, reimburse the purchaser for delivery costs incurred in returning the product to Black Duck for refund or replacement.

Black Duck accepts no responsibility for non-delivery of a product seeking to claim this warranty.

This warranty does not apply to Loose Fit, vinyl or fabric seat covers.

This warranty is in addition to rights and remedies available to you under the Competition and Consumer Act 2010 (Cth).
Our goods come with guarantees that cannot be excluded under the Australian Consumer Law. You are entitled to a replacement or refund for a major failure and compensation for any other reasonably foreseeable loss or damage. You are also entitled to have the goods repaired or replaced if goods fail to be of acceptable quality and the failure does not amount to a major failure.

Please direct all warranty claims direct to Black Duck
Phone: 1800 803 825
Fax: 08 8723 6347
Email: sales@blackduck.com.au


 In addition to manufacturers' guarantees on selected products, Miller Canvas and its suppliers provide a guarantee of acceptable quality on every product, by law. You are entitled to a replacement or refund for a major failure, and to compensation for other reasonably foreseeable loss or damage. You are also entitled to have the goods repaired or replaced if the goods fail to be of acceptable quality but the failure does not amount to a major failure.
BELOW ARE SAMPLE IMAGES OF CANVAS SEAT COVERS AVAILABLE
Please Note: They may not be of the covers you are considering each seat has a cover custom designed to suit.
TYPICAL MOTORBIKE SEAT COVER - Custom designed for each seat.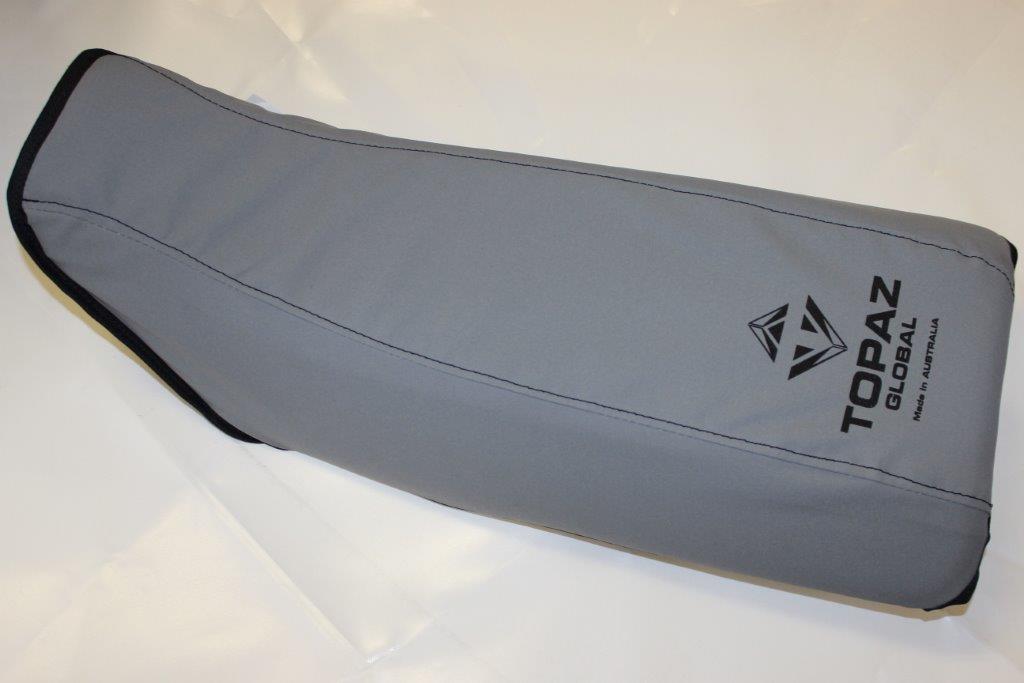 IMAGE SHOWS A HONDA QUAD fitted with a separate tank cover and a separate seat cover, (note the handmuffs also available from Miller Canvas)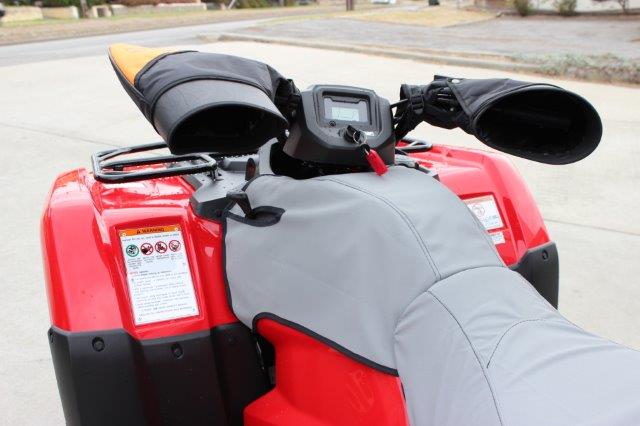 ALL IN ONE PADDED SEAT AND TANK COVER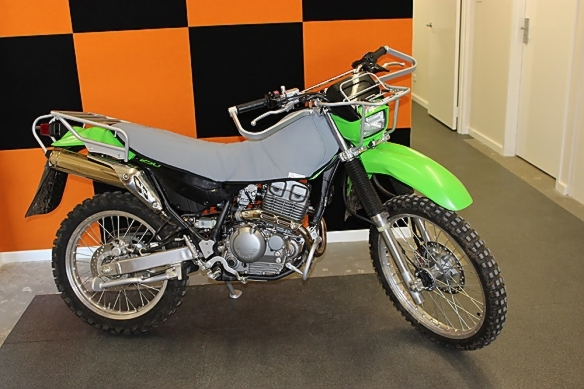 TYPICAL ATV COVER they are custom designed for each seat.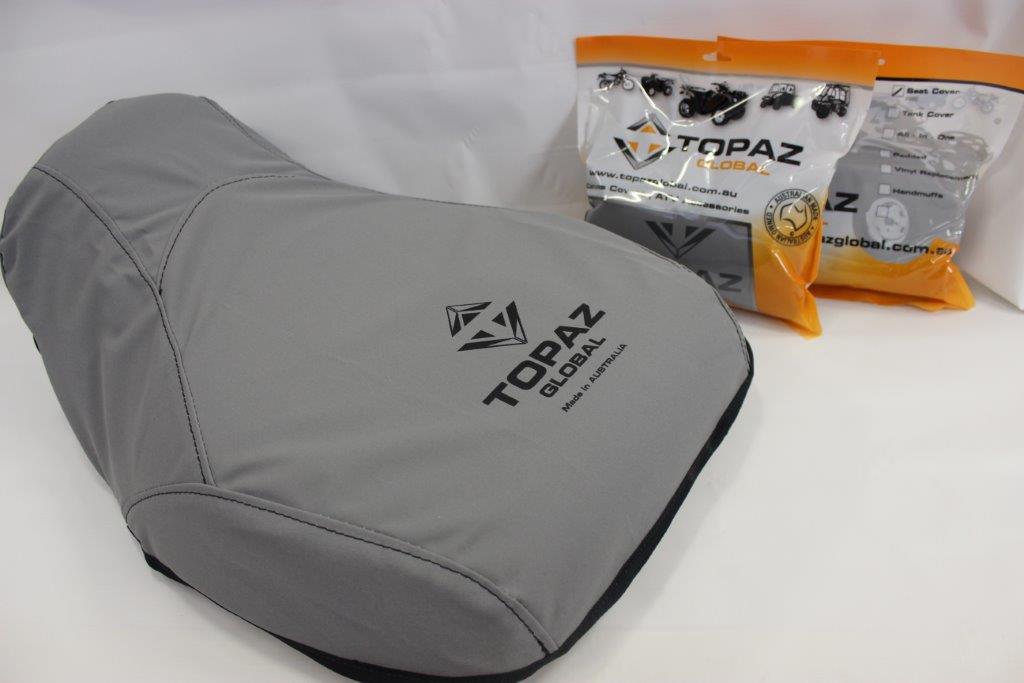 Canvas Seat Cover to suit YFM700 KODIAK 2016 – Current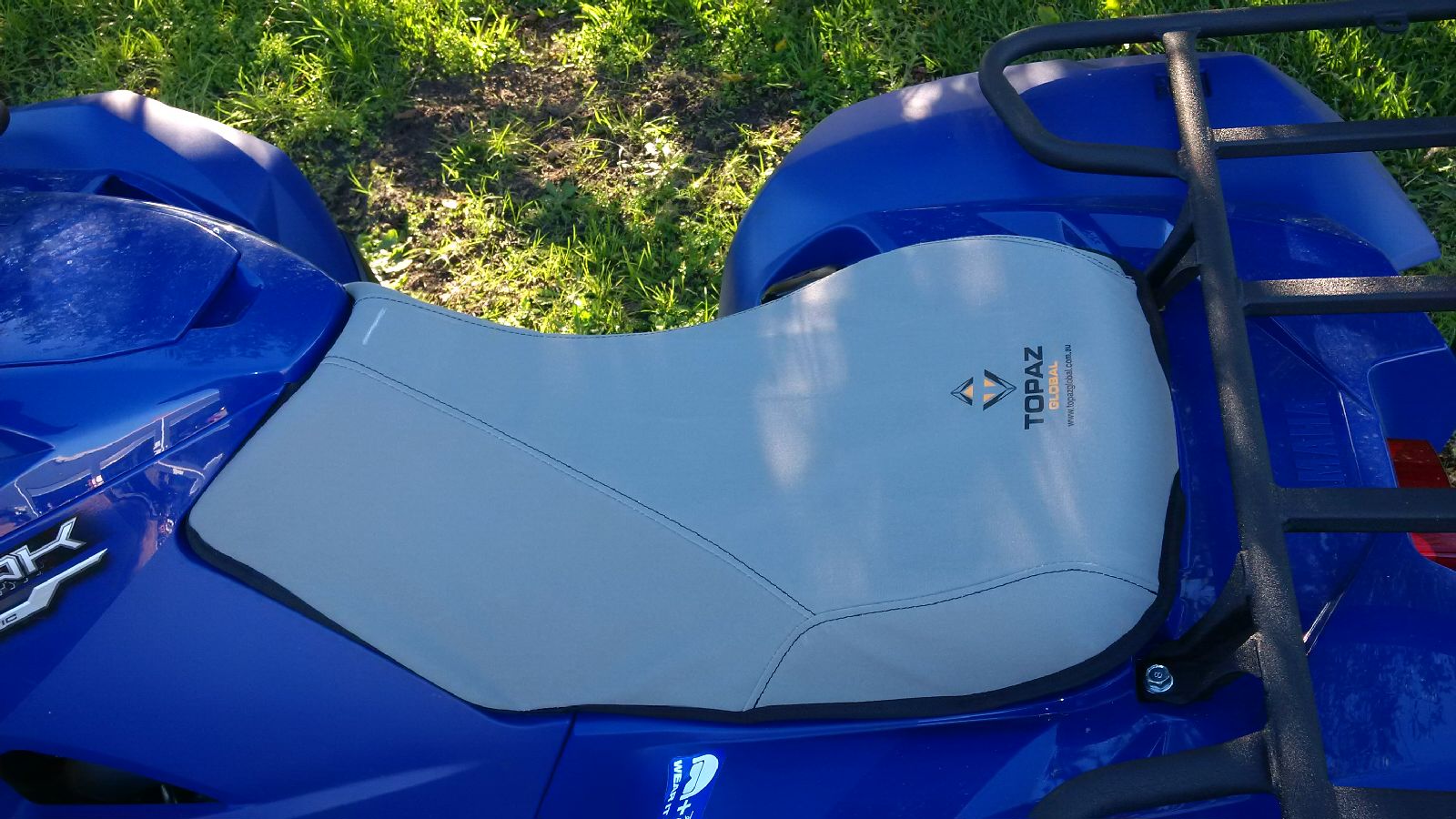 ALL IN ONE PADDED CANVAS SEAT and TANK COVER to suit Honda XR 250 & 400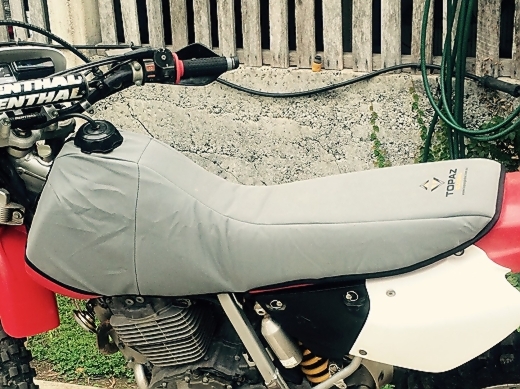 Canvas Seat Cover to suit Ranger XP900 - P799Q1
CANVAS SEAT COVER TO SUIT YXC700 VIKING VI 6 SEATER (SET OF 3) Y822Q1-2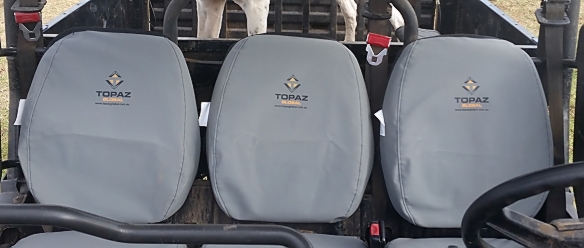 CANVAS SEAT COVER TO SUIT A KUBOTA MOWER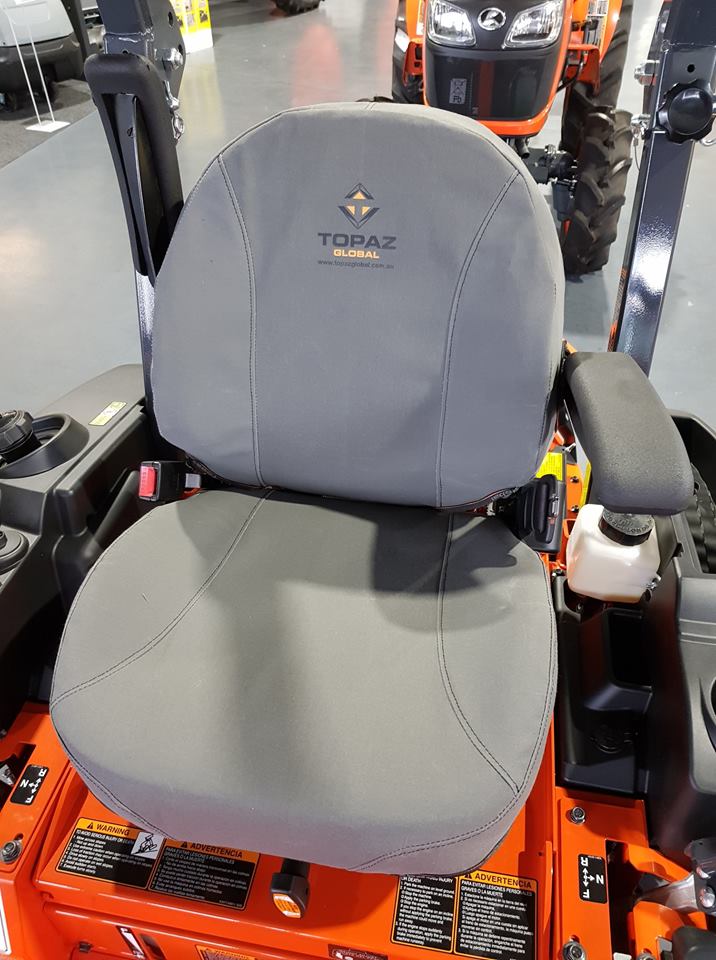 TOPAZ GLOBAL KUBOTA EXCAVATOR-1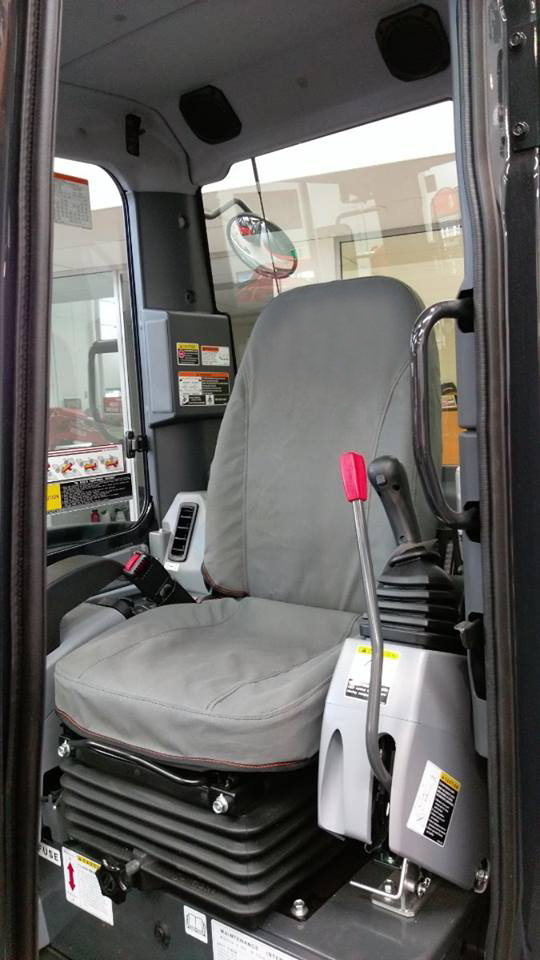 TOPAZ GLOBAL JOHN DEERE 855D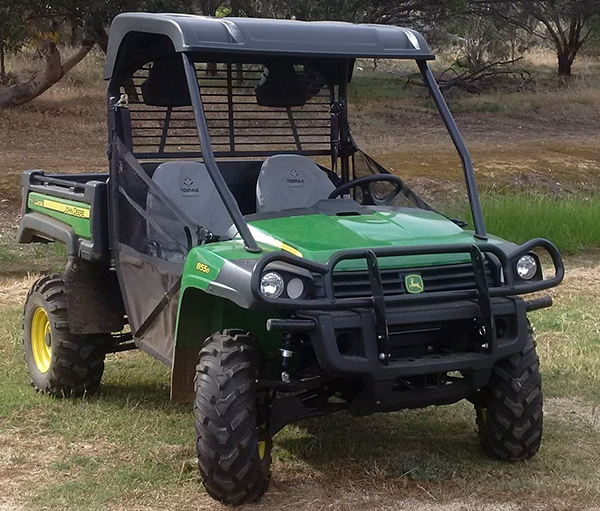 CanAm UTV seat cover.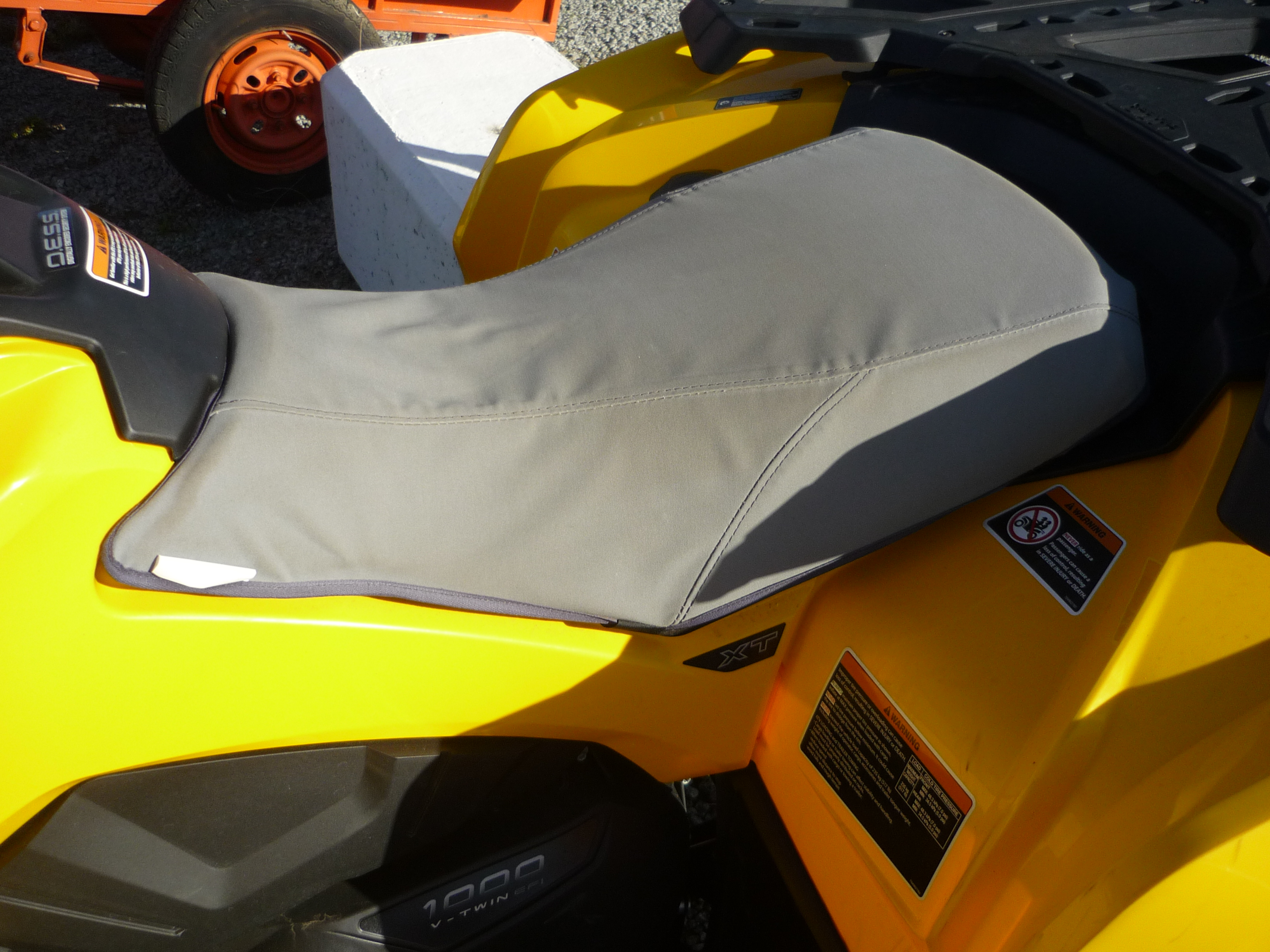 TOPAZ GLOBAL KUBOTA UTV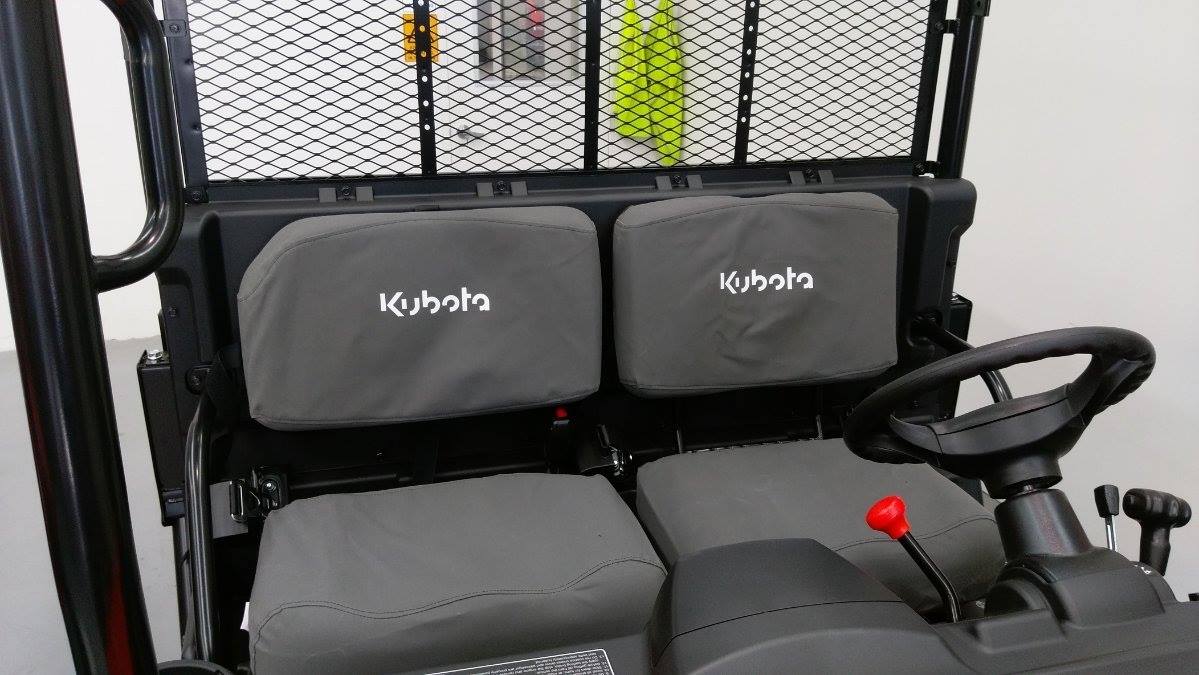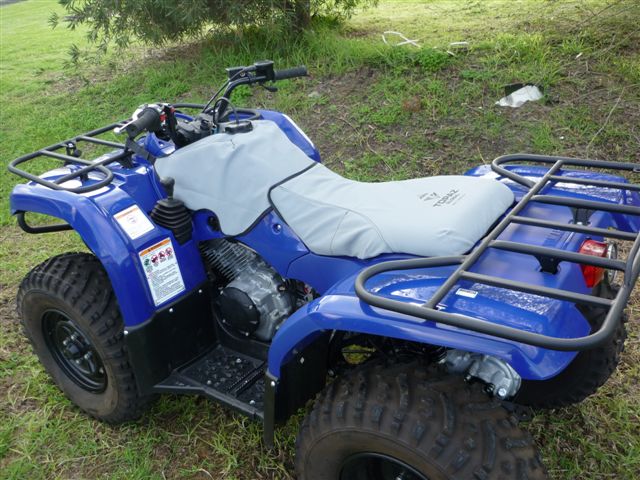 YFM450 KODIAK All-in-One padded seat and tank cover