Please sign in so that we can notify you about a reply

 MILLER CANVAS is an ONLINE retailer of CATERPILLAR CANVAS SEAT COVERS suitable for TOYOTA LANDCRUISER VDJ79 - SINGLE CAB

from 09/2016 to CURRENT YEAR.


Our Range of Tailor Made seat covers are custom designed by Sperling to "fit like a glove" and are suitable for TOYOTA LANDCRUISER 79 series SINGLE Cabs.

Suitable For: 79 series TOYOTA LANDCRUISER  Single Cab - Cab Chassis  ALL VARIANTS 
Models: VDJ79
Years: from 09/2016 including 2017, 2018, 2019, 2020, 2021, 2022, 2023, 2024 and beyond.
Seat Type: FRONT DRIVER and PASSENGER BUCKET SEATS as a set.
Manufacturer: SPERLING.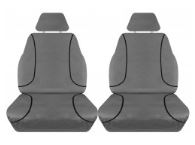 FREE StarTrack Express Overnight Delivery bags are used to ship the Seat Covers.
These Canvas seat covers are fully Waterproof!
Because the Seat Covers are Tailor Made, you can have these in around 10 business days!
Caterpillar - CANVAS - BLACK only available colour.
Features and Benefits
Specifically designed for Caterpillar, made from the toughest high quality canvas engineered with comfort and durability in mind.
13oz (440gsm) PREMIUM canvas.

Additional 6mm"13oz (440gsm) premium canvas.

Thick 6mm foam backing for superior comfort.

Heavy Duty Neotex 10oz (350gsm) skirt and backing.
GUARANTEED TO FIT Crafted to fit your specific vehicle "like a glove" and stay put.

Neotex is triple the industry standard keeping your seat covers fitting snug and protecting your seats for longer." bonded foam for superior comfort.
Custom-fit CAT CANVAS SEAT COVERS offer MAXIMUM protection for the seats in your LANDCRUISER 79 series VDJ79 SINGLE CAB ute

.
If you're after an AFFORDABLE hard-wearing CANVAS SEAT COVER to suit your  LC79 SINGLE CAB ute 

then look no further, get some CATERPILLAR CANVAS seat covers on your seats within a few days with our super fast shipping.