Miller Canvas is an authorized Ozroll Distributor for genuine Ozroll roller shutter components & parts, including the Somfy 240v Premium LT Series Tubular Motors for use with a manual wall mounted switch.
PLEASE NOTE: This is a 240v system and must be installed by a licensed electrician.
The Somfy LT Series tubular has been specifically designed to suit the current Oz Roll Drive Systems.
Available in torques from 10Nm to 50Nm, coupled with its flexible 48mm design, it is adapted for Ozroll's 50mm circular and 60mm octagonal axles (an adaptor is required for the 60 mm Octagonal motor).
This Premium Grade European built motor with rapid set push button limits is an excellent all round performer.
The SOMFY motor comes with a 5 year warranty.
MOTOR SIZES AVAILABLE  10 Nm,15Nm, 25Nm, 30Nm, 40Nm and 50Nm    Nominal speed of 17RPM.

VIEW THE TABLES BELOW TO DETEMINE WHAT SIZE MOTOR  (Nm) SUITS YOUR REQUIREMENTS.
Tubular motors are classed by the lifting capacity, and are measured in Nm (Newton metres)
NOTE: There are several different types of shutters available in the Ozroll Range each have different motor ratings, select the correct shutter type that you have.
1) Domestic rated shutters (the most comon type).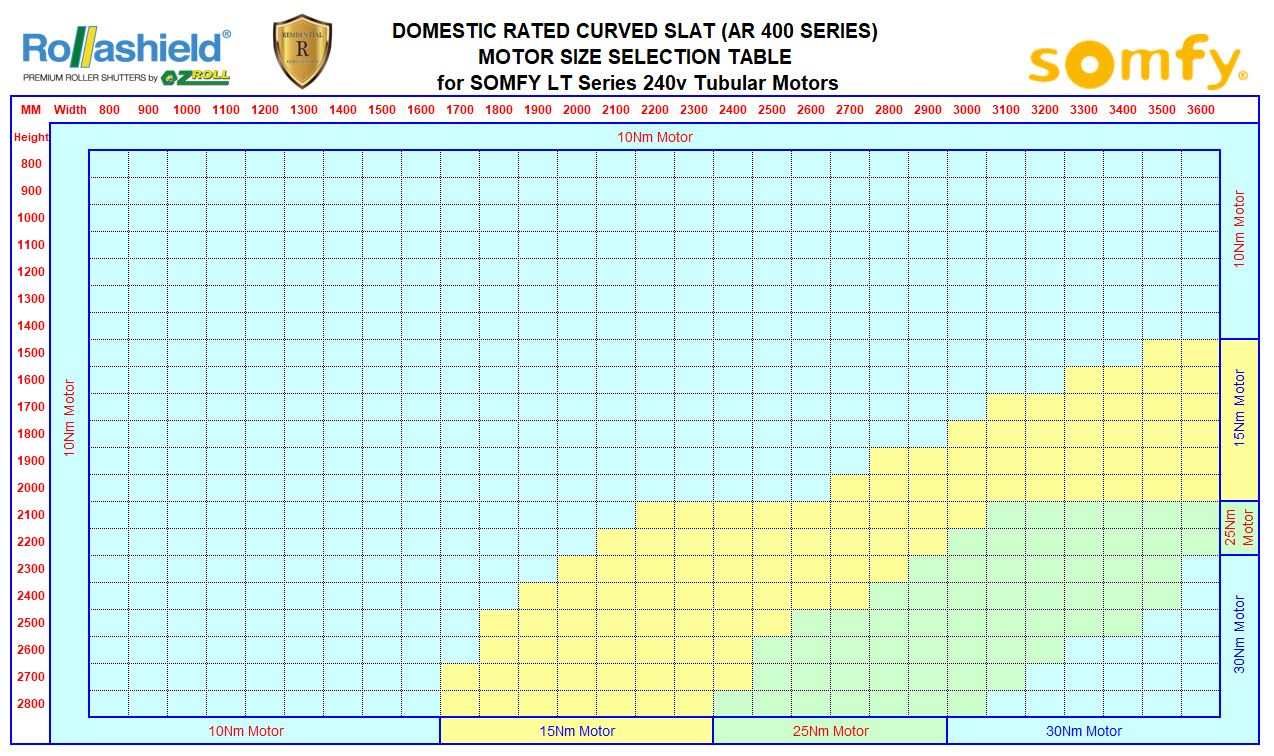 2) Sentry Fireshield shutters. 
2) StormShield shutters.
Parts Supplied: with each motor.
2 x Somfy Motor Screws (Fastener K50x16 Philips PT 19.900.003) mounting screws to secure the motor to the box end, you may also use the optional Somfy 410 Motor Bracket 14.192.000.
1 x Screw (Screw M3 x 3 Pan CR MTS Zinc 19.900.008) very short screw to secure the strap connecting the slats to the axle.
1 x Washer (Washer External Lock 1/8 19.900.013) as above.
OPTIONAL PARTS AVAILABLE (select as an option if required)
Motor Bracket Optional Somfy 410 Motor Bracket 14.192.000
Drive W
heel Kits (select as an option)
A) 50 mm Round Axle Drive Wheel     
B) 60mm Octagonal Axle Drive Wheel
C) 60 MM Octagonal Axle Drive Wheel plus 60mm Crown Wheel (the Crown Wheel is used to adapt the motor to fit a 60mm Octagonal Tube).
Drive Wheel Kits:  (select as an option).
You will need a drive wheel kit if you are converting from a strap control or an L10 Mech, they are available to suit both:
50mm Round Axle.

60mm Octagonal axle.
Idler End Insert (opposite end of the axle to the drive system): (select as an option).
50mm Round Aluminium Axle requires Red Axle Insert - with Bearing.
60mm Octagonal Axle requires 60mm Octagonal Axle Insert with Bearing.
Wall Mounted Switch: (select as an option)
Somfy Single wall mounted switch (controlls 1 x shutter).

Somfy Double wall mounted switch (controlls 2 x shutters).
Single Switch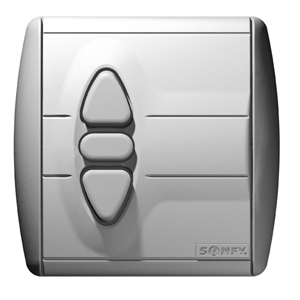 Double Switch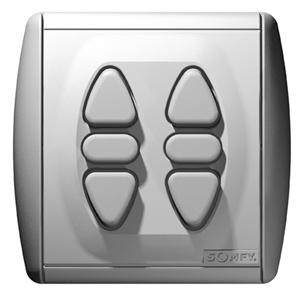 Technical Specifications -

Nominal Torque: 10Nm - 50Nm (selectable as an option)
No Load Speed: 17rpm
DOWNLOAD THE MOTOR LIMIT SETTING INSTRUCTIONS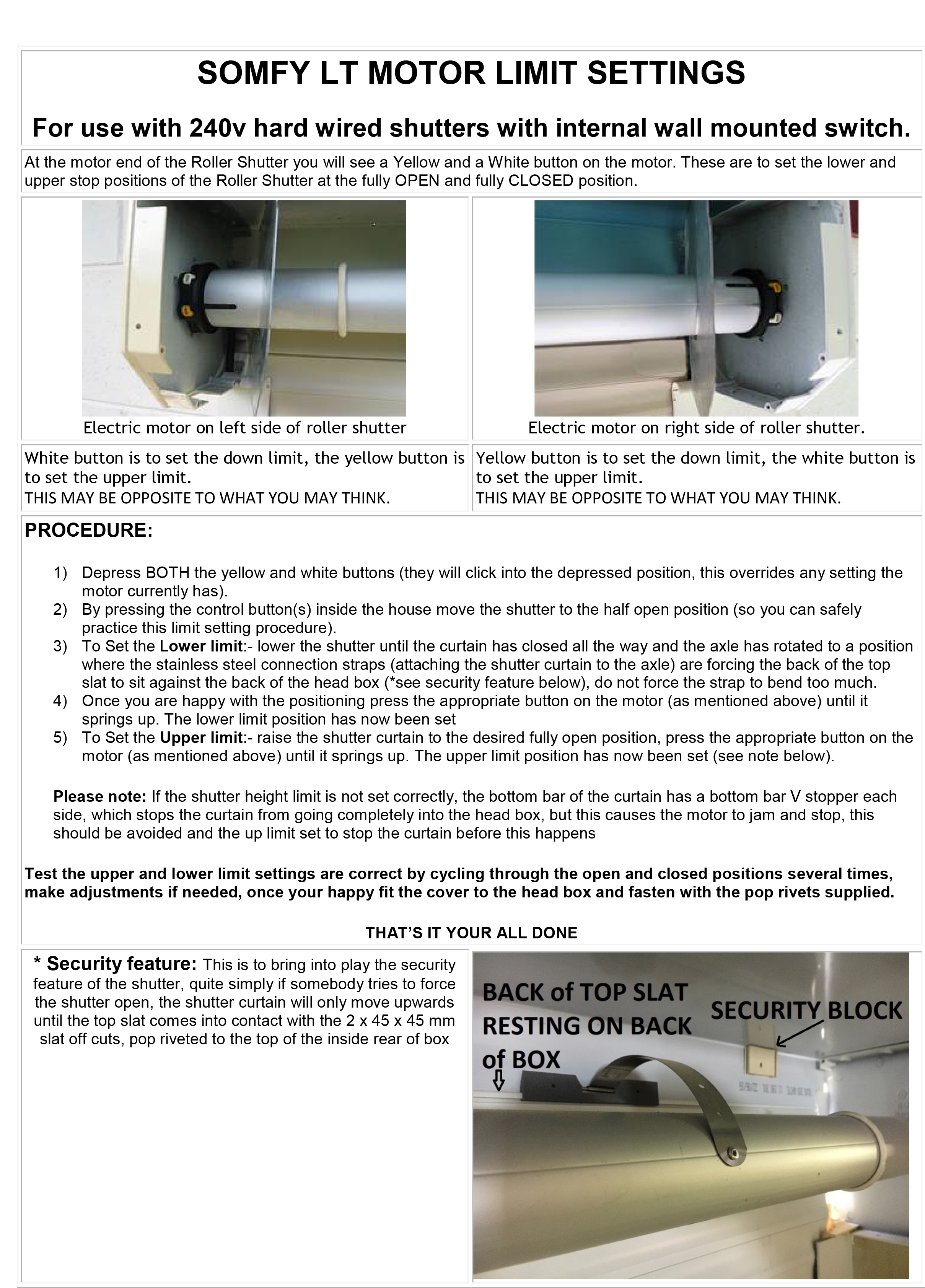 PLEASE NOTE: This is a 240v system and must be installed by a licensed electrician.
 This product is non-refundable unless the product is faulty.
SHIPPING
All Ozroll products are shipped via Express Post.
A flat rate $15.00 Postage charge (per order wether for 1 item or several items) is added at the cart.

Posted direct from the Ozroll Factory/Warehouse in Adelaide.

Within 48 hours of receiving your completed payment.

You will be notified via email once shipped.
WARRANTY and RETURNS
Miller Canvas is committed to providing quality products to our customers. If for any reason you are not completely satisfied with any product supplied by us, please contact us by emailing sales@millercanvas.com.au within 7 days of receiving the goods.
You must:
Include your Name, Address and Tax Invoice number in the email.

Provide a clear and detailed description of the problem you are experiencing.

 

No product is to be returned without authorisation and an accompanying CUSTOMER CLAIM FORM issued by Miller Canvas.

Any return will be to Ozroll and not Miller Canvas unless otherwise directed.

Return packaging must be of sufficient quality to protect the goods in transit.

You are responsible for ANY return costs of the goods back to Ozroll.

Different products have varying warranty periods generally stated on the product description page.

Upon return Ozroll technicians will inspect and test the component and will repair or replace the item and ship it back to you.

Guarantees do not apply if you got what you asked for but simply changed your mind, found it cheaper somewhere else, decided you did not like the purchase or had no use for it.
In addition to manufacturers' guarantees on selected products, Miller Canvas and its suppliers provide a guarantee of acceptable quality on every product, by law. You are entitled to a replacement or refund for a major failure, and to compensation for other reasonably foreseeable loss or damage. You are also entitled to have the goods repaired or replaced if the goods fail to be of acceptable quality but the failure does not amount to a major failure. This refund policy is not intended to exclude or limit any rights which you may have under the Competition and Consumer Act 2010 (Cth) or equivalent State or Territory laws.